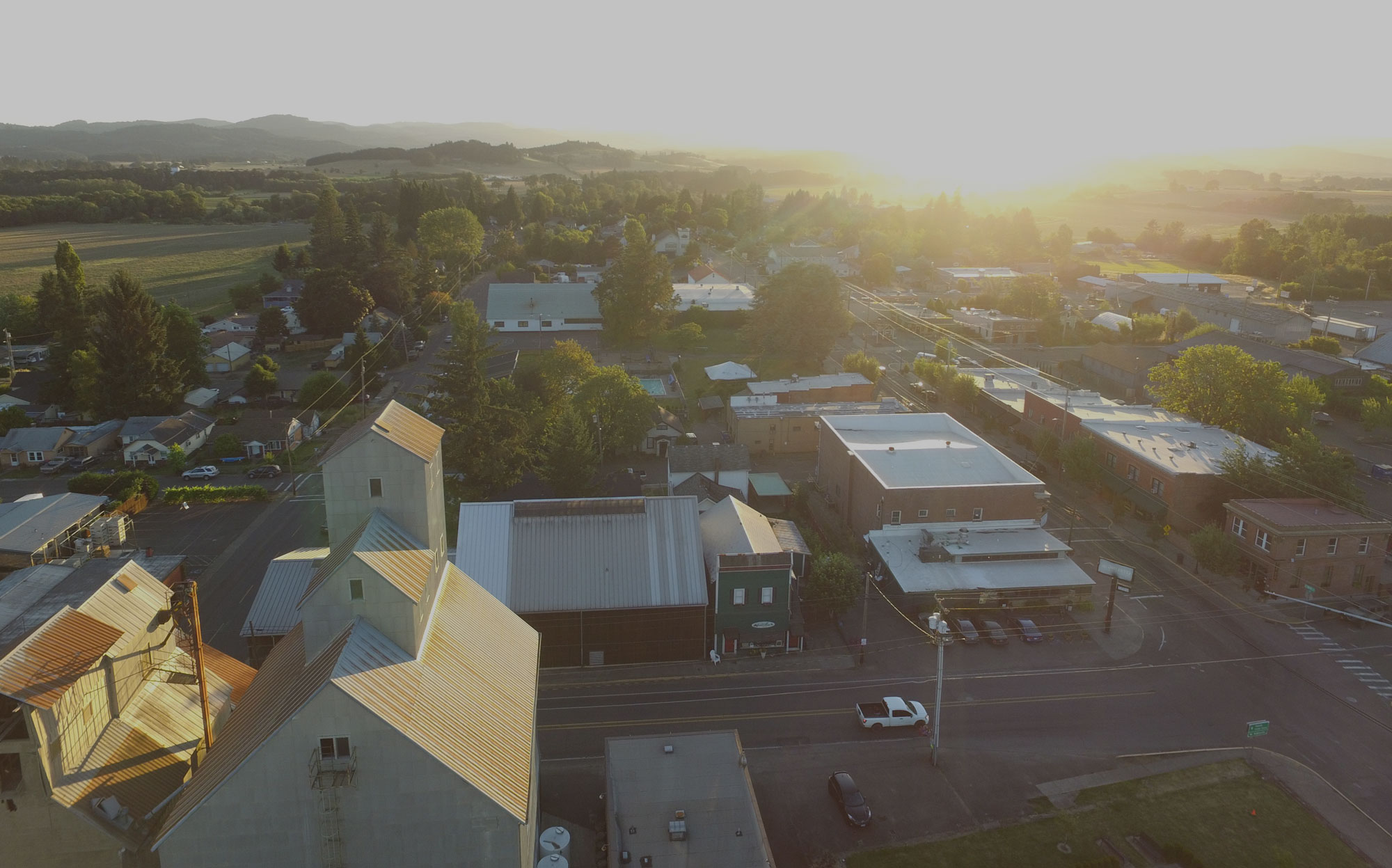 A Wine Tasting Itinerary in Carlton, Oregon
NOTE
This article is for trip planning purposes. Only the wineries that are listed as 2021 Club Featured Winery are offering WineryHunt Membership Benefits this year.
With dozens of wineries within walking distance, Carlton is a dream town for wine lovers.
Located an hour southwest of Portland and ten minutes north of McMinnville, Carlton boasts over twenty tasting rooms, all within walking distance... the highest number of tasting rooms per capita in the entire Untied States! Ken Wright planted roots in Carlton in the 1980s, and over time Carlton has become an epicenter in Oregon's wine industry. In addition to the wineries, there are a great boutiques, bakeries and restaurants to make visiting enjoyable for everyone.
There is no major hotel in Carlton but plenty of vacation rentals and AirBNBs, so we recommend staying in town for a night or two, walking to the tasting rooms and not worrying about the drive home! For this itinerary, we've selected four of the best tasting rooms for you to visit while in Carlton.
One hour from Portland
Carlton is one hour southwest of Portland. Access it via 99W and Hwy 240 at Newberg, or via Hwy 26 to Forest Grove and south on Hwy 47.
Get Directions
20+ Wineries
Carlton has the most tasting rooms per capita in the United States! We've picked four of the best for you to visit.
2021 WineryHunt Club Featured Wineries
WineryHunt Club Members enjoy waived tastings and 10% discounts at the Carlton Winemakers Studio and Flâneur Wines in 2021.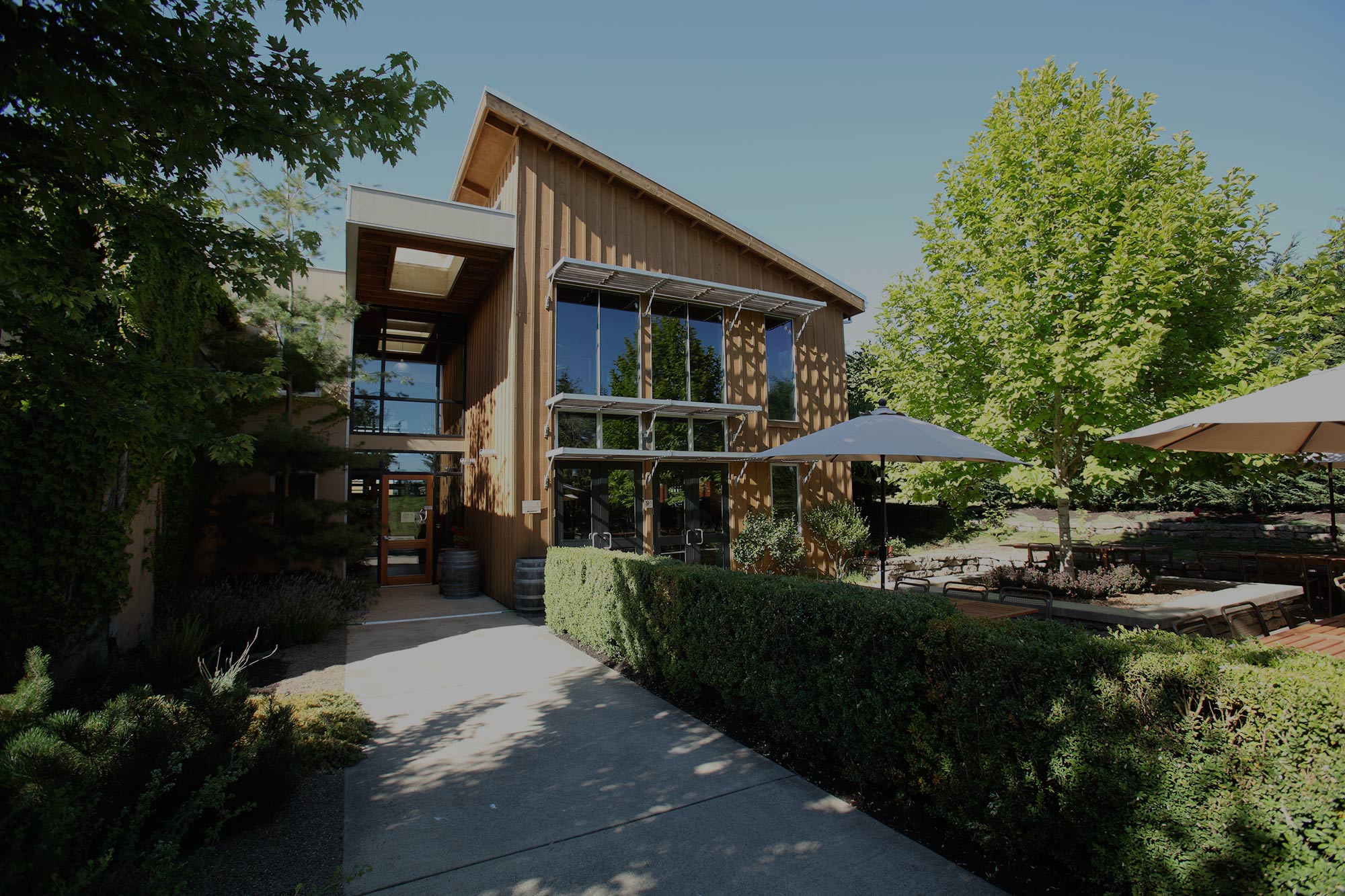 2021 CLUB FEATURED WINERY
The Carlton Winemakers Studio
2021 Featured Winery Profile
801 N Scott St, Carlton, OR 97111
Directions & Hours
Website
The Carlton Winemakers Studio is a unique cooperative winery in which 15 different vintners share one space to craft premium Oregon wines. Founded in 2002, the Winemakers Studio is located on the north edge of Carlton and provides the ideal incubator for smaller wineries looking to start or grow their wine brand. Some of Oregon's biggest names got their start here, including Soter and Penner-Ash. Well-loved brands and up-and-comers call the studio home today, including Andrew Rich Wines, Lavinea, Hamacher Wines, Ratio, Lazy River and WildAire.
The modern tasting room features a revolving selection of wines made at the studio. The winery has received impressive accolades over the years, with features in Food & Wine, Wine Spectator, The Oregonian and more. This is a must-visit during your time in Carlton!
Wines Produced: A full range of Oregon wines from 15 different producers. The tasting flight features an ever-changing selection.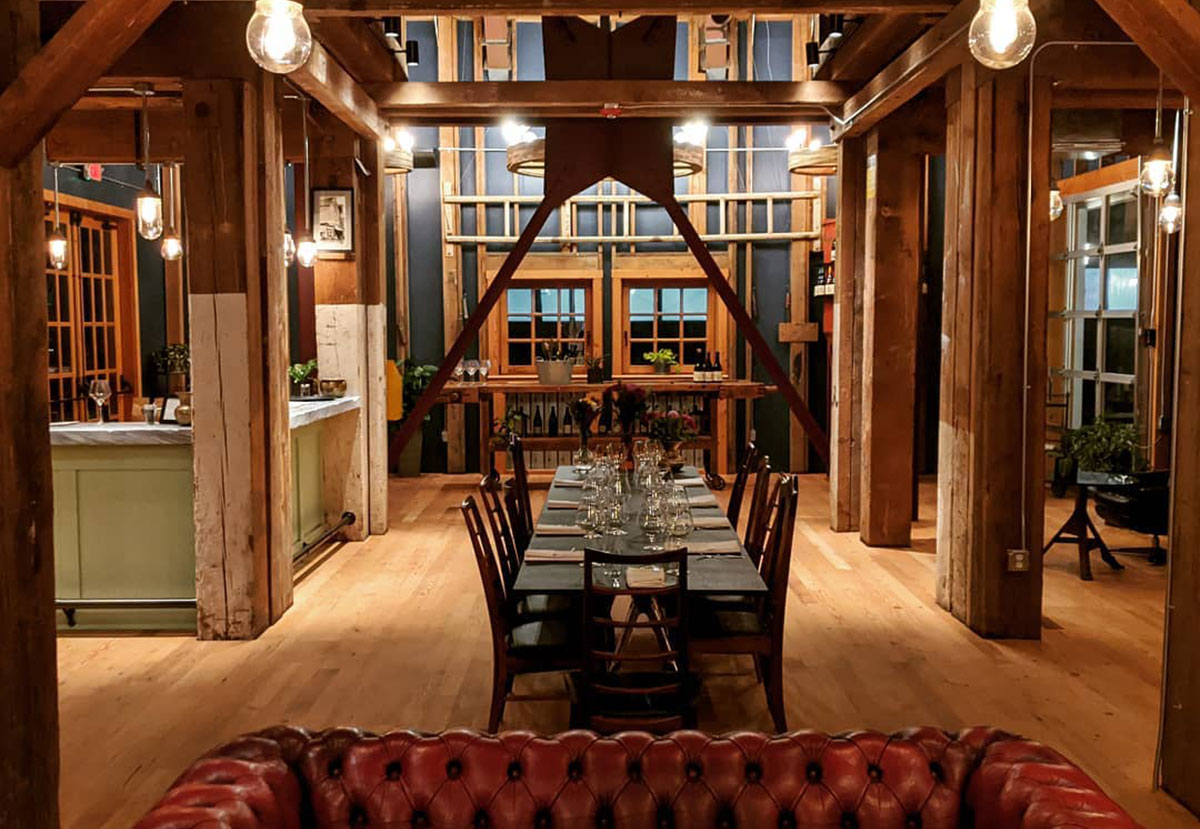 2021 CLUB FEATURED WINERY
Flâneur Wines
2021 Featured Winery Profile
168 S Pine St, Carlton, OR 97111
Directions & Hours
Website
To be a Flâneur is not about wasting time…. it's about regaining time that has been lost. Flâneur Wines is a small Carlton winery crafting wines from two organic estate vineyards near Newberg. The wines are made by Grant Coulter, former head winemaker at the acclaimed Beaux Frères winery. Grant is a dedicated proponent of terroir and the need for minimal intervention in the winemaking process. With minimal intervention, it is critical to source grapes from well-maintained, carefully farmed vineyards. Flâneur thus owns two estate organic vineyards on the western edge of Newberg: Flânerie Vineyard in the Ribbon Ridge AVA and La Belle Promenade Vineyard in the Chehalem Mountains AVA.
In the spirit of regaining time that has been lost, the Flâneur team has established their hospitality core at the historic Carlton Grain Elevator. The grain elevator has been an integral part of the Carlton and Willamette Valley community for more than 100 years. For a decade, the space sat unused in the center of town. Recognizing its potential Flâneur Wines purchased the building in 2013 to be a new wine-centric hospitality center that retains the beauty of the past.
The project, done by hand, represents all that Flâneur Wines tries to create: an unforgettable experience that slowly unfolds like every great bottle of wine.
Wines Produced: Chardonnay, Pinot noir, Sparkling Wine
Featured in Previous Years
While these wineries aren't offering benefits to WineryHunt Club Members in 2021, they are well worth visiting when you are in Carlton.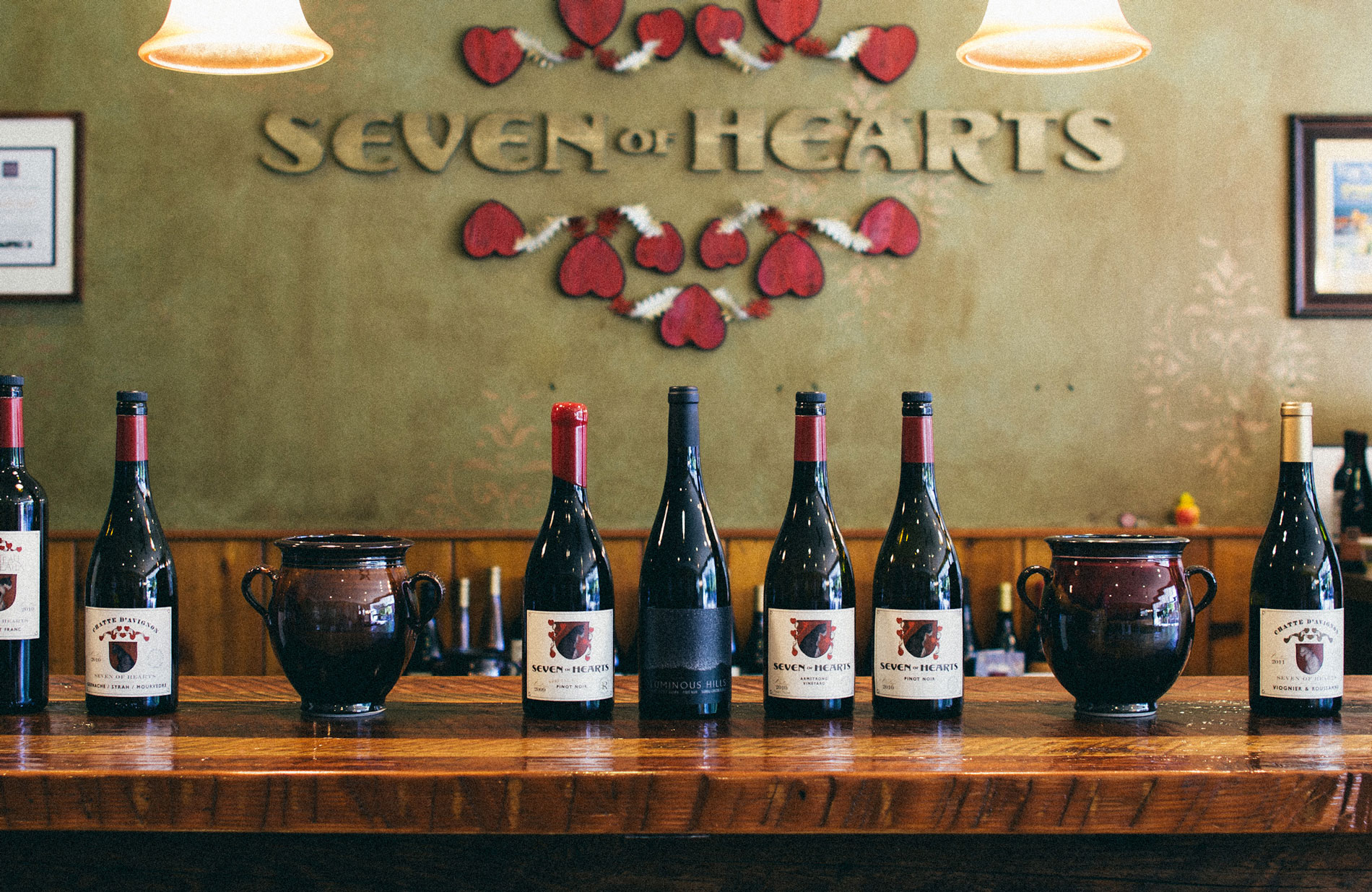 Seven of Hearts
217 W Main St, Carlton, OR 97111
Directions & Hours
Website
Seven of Hearts explores different vineyards, appellations and varietals within Oregon's Willamette Valley and neighboring regions.From Riesling to Roussanne, Pinot Noir to Bordeaux Blends, Winemaker Byron Dooley does not shy away from making wine from a wide variety of grapes grown in the Pacific Northwest. No matter what your taste in wine is, you are sure to find a new favorite at Seven of Hearts. You will usually find Byron behind the tasting room counter, eager to teach tasting room visitors everything there is to know about he varietals he works with and the winemaking process.
Byron's wife Dana owns Honest Chocolates, a chocolaterie that shares space with the charming downtown Carlton tasting room. A chocolate is always included in the wine tasting flight.
Wines Offered: Riesling, Rosé, Pinot Gris, Roussanne, Chardonnay, Pinot Noir, Bordeaux Blends, Nebbiolo, Dessert Wine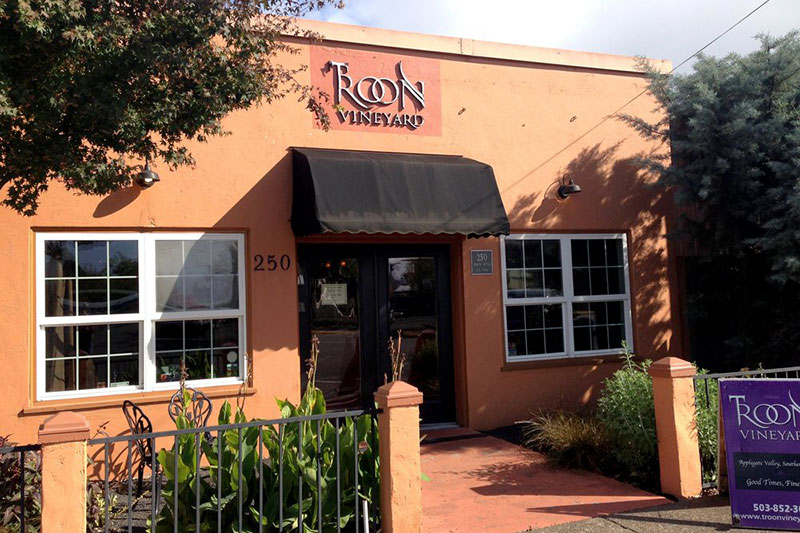 Troon Vineyard
250 N Kutch St, Carlton, OR 97111
Directions & Hours
Website
Based in Oregon's Rogue Valley, Troon Vineyard crafts wines that thrive in the hot Southern Oregon climate. The satellite tasting room in Carlton offers a chance to break away from Pinot Noir and try bigger red wines that thrive in warmer conditions, like Cabernet Sauvignon and Syrah. The white wines also are a departure from what is normally offered in the Willamette Vally, with Vermentino and Roussanne being highlights. The tasting room has plenty of room to spread out and enjoy your tasting, or head to the back patio on nice days to sit and relax for awhile.
Wines Offered: Vermentino, White Blends, Roussanne, Riesling, Orange Wine, Grenache, Tempranillo, Syrah, Cabernet Sauvignon, Malbec, Red Blends, Merlot, Sangiovese, Dessert Wine
"This is a great winery for bold southern Oregon wines that are a great break for the Willamette Valley Pinot Noirs." KH, Google Review
Resources for your Tasting Adventure to Carlton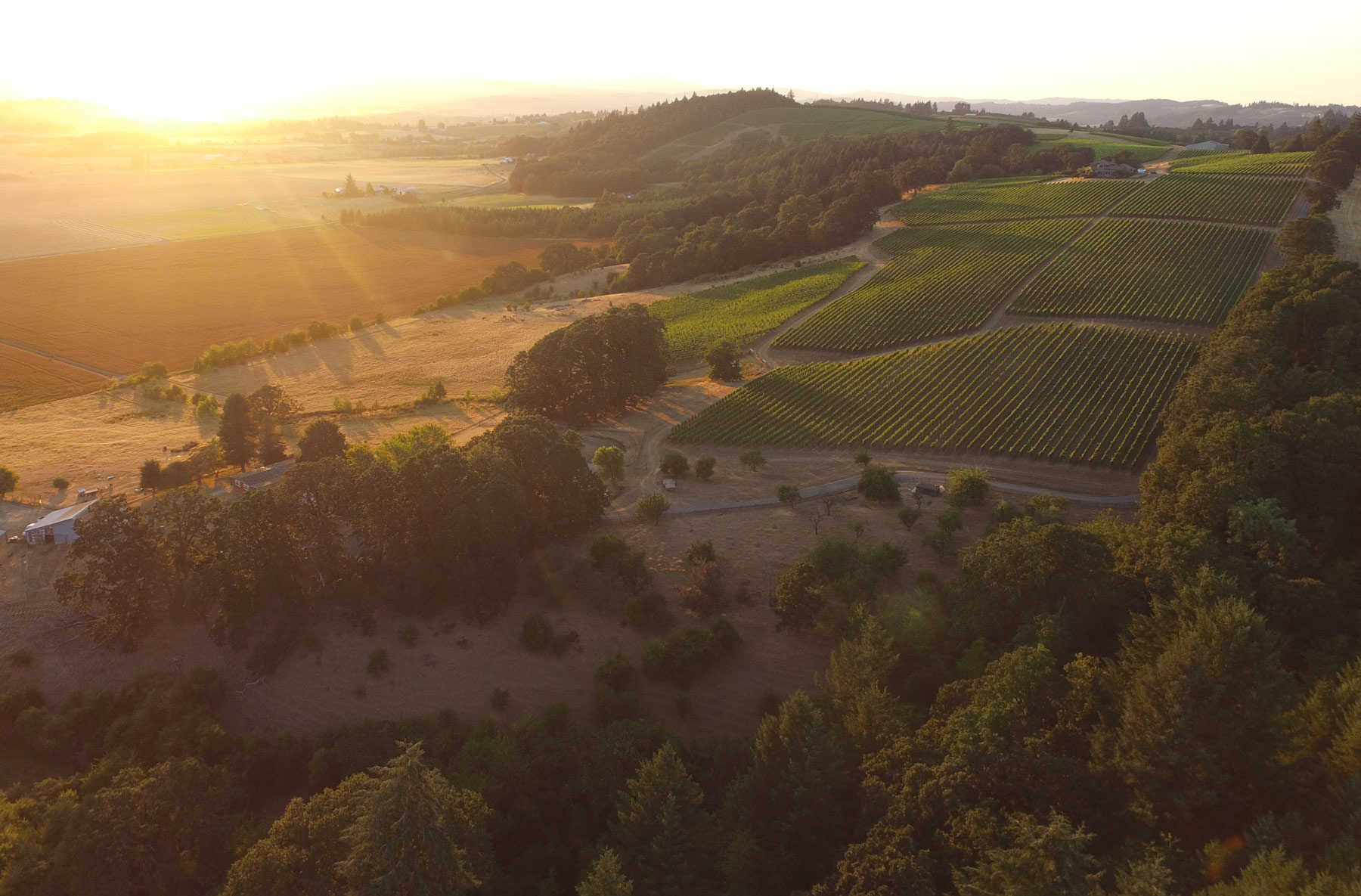 Join the WineryHunt Oregon Club
WineryHunt Oregon Club Members enjoy waived wine tastings and discounts in a different Oregon wine region each month.
View Club Details