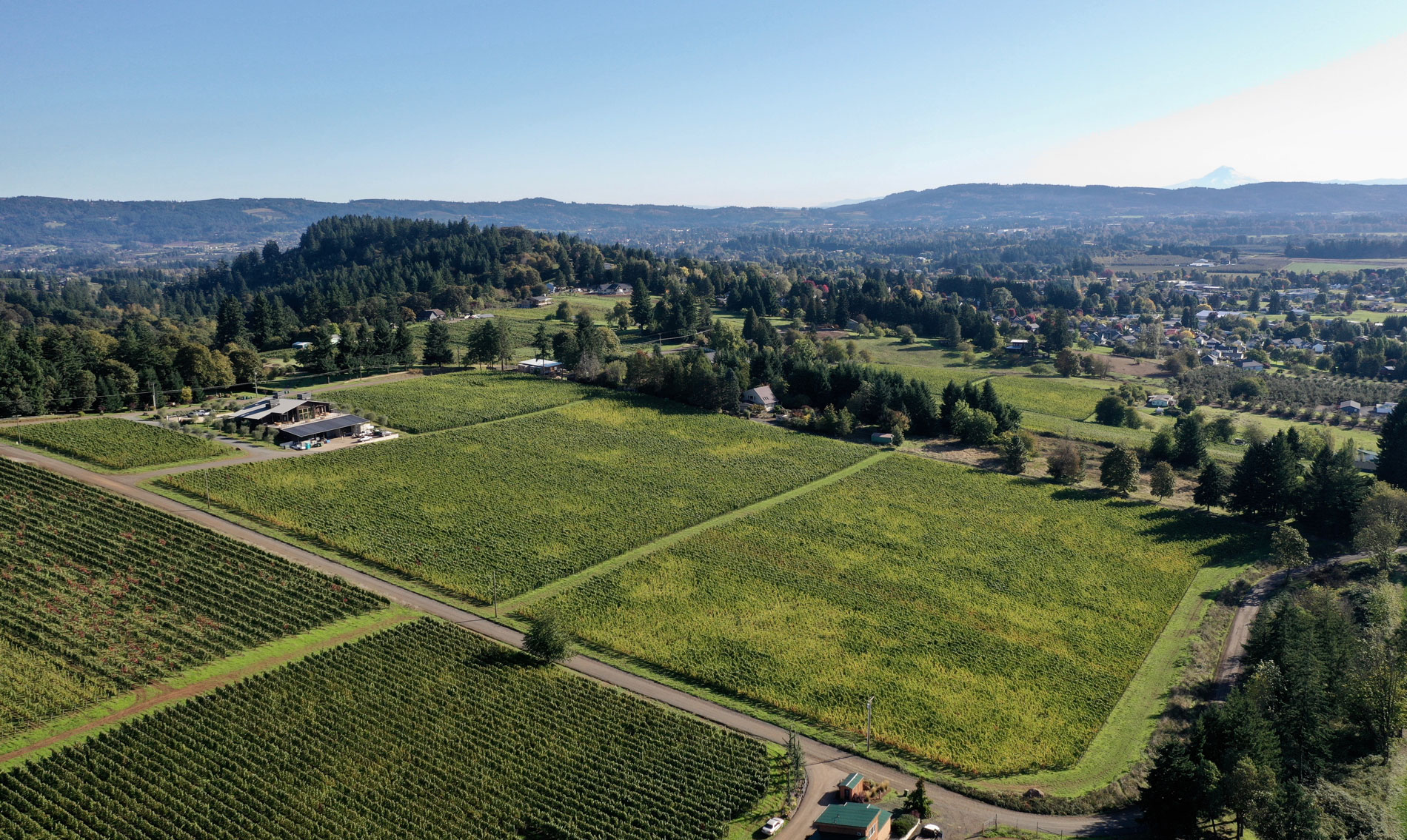 A Wine Tasting Itinerary in Dundee, Oregon
Note
This article is for trip planning purposes. Only the wineries that are marked as 2021 Club Featured Winery are offering WineryHunt Club Member Benefits this year.
One of Oregon's most well-known and iconic wine regions, Dundee is home to many of Oregon's most revered wineries.
WineryHunt club members enjoy waived tastings and 10% discounts at Holloran Vineyard, Knudsen Vineyards and Lange Estate Winery in 2021.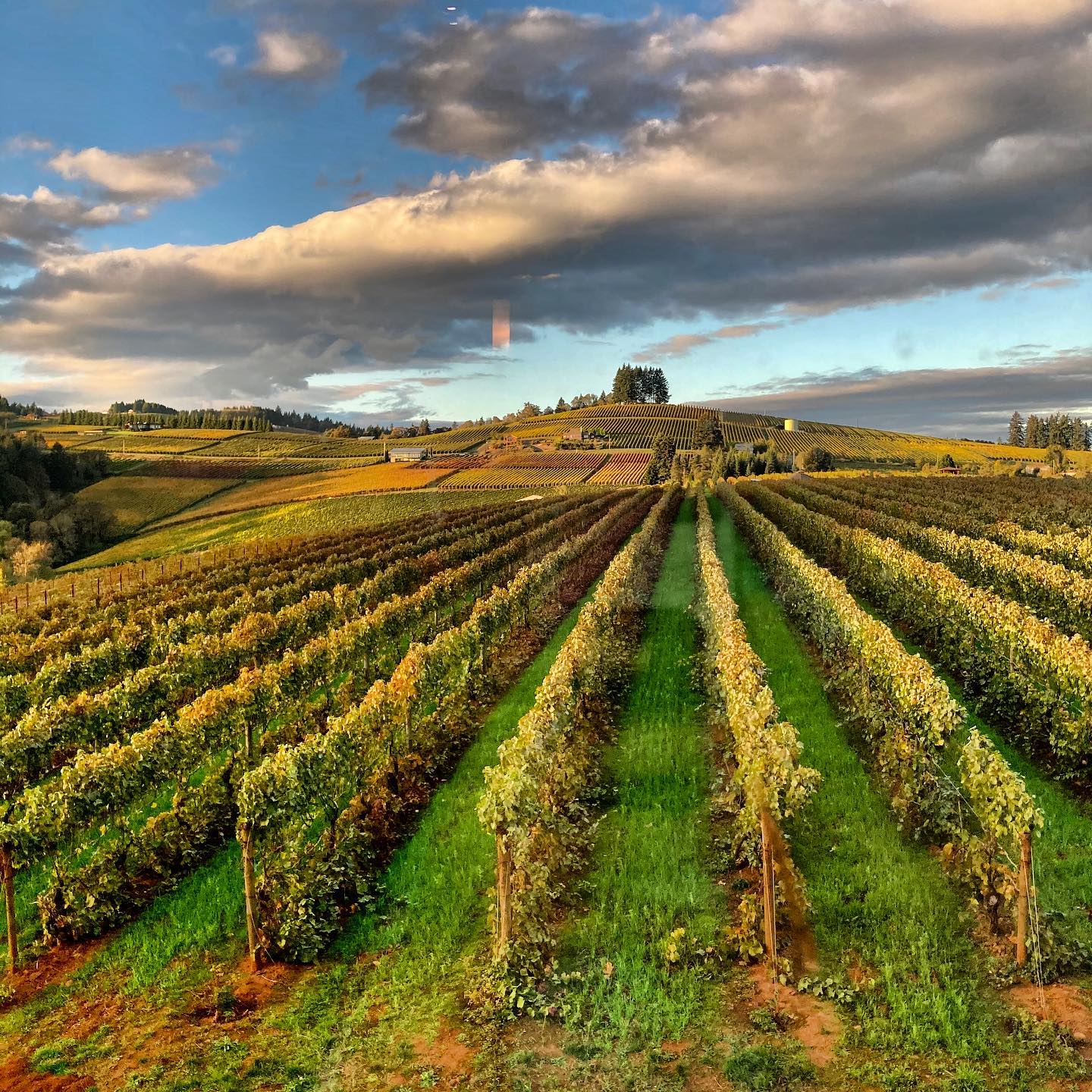 2021 Club Featured Winery
Holloran Vineyard Wines
8795 NE Worden Hill Rd, Dundee, OR 97115
Directions & Hours | Website
Small production, sustainably farmed wines that represent the unique characteristics of their vineyards is the focus. Holloran Vineyard Wines embody an ethos of honesty and clarity – proof of the year's labors in the glass with no dressing up or glossing over. Bill and Eve Holloran moved to West Linn in 1999 for a change of pace from the East Coast. Bill soon sold his software company to devote himself to the vineyards and winery. What they have built in the Dundee Hills represents the simplicity of a creative, collaborative space that supports Bill's love of wine and Eve's artistic spirit.
Working with vines planted in the 1970's and more recently, Holloran Vineyard Wines' winemaker Mark La Gasse crafts wines of simple pleasure, punctuated by a sense of time and place. For WineryHunt Members, this is a visit to the Dundee Hills that will surprise and delight.
Wines Produced: Chardonnay, Pinot noir, Rosé, Riesling, Tempranillo, Sauvignon blanc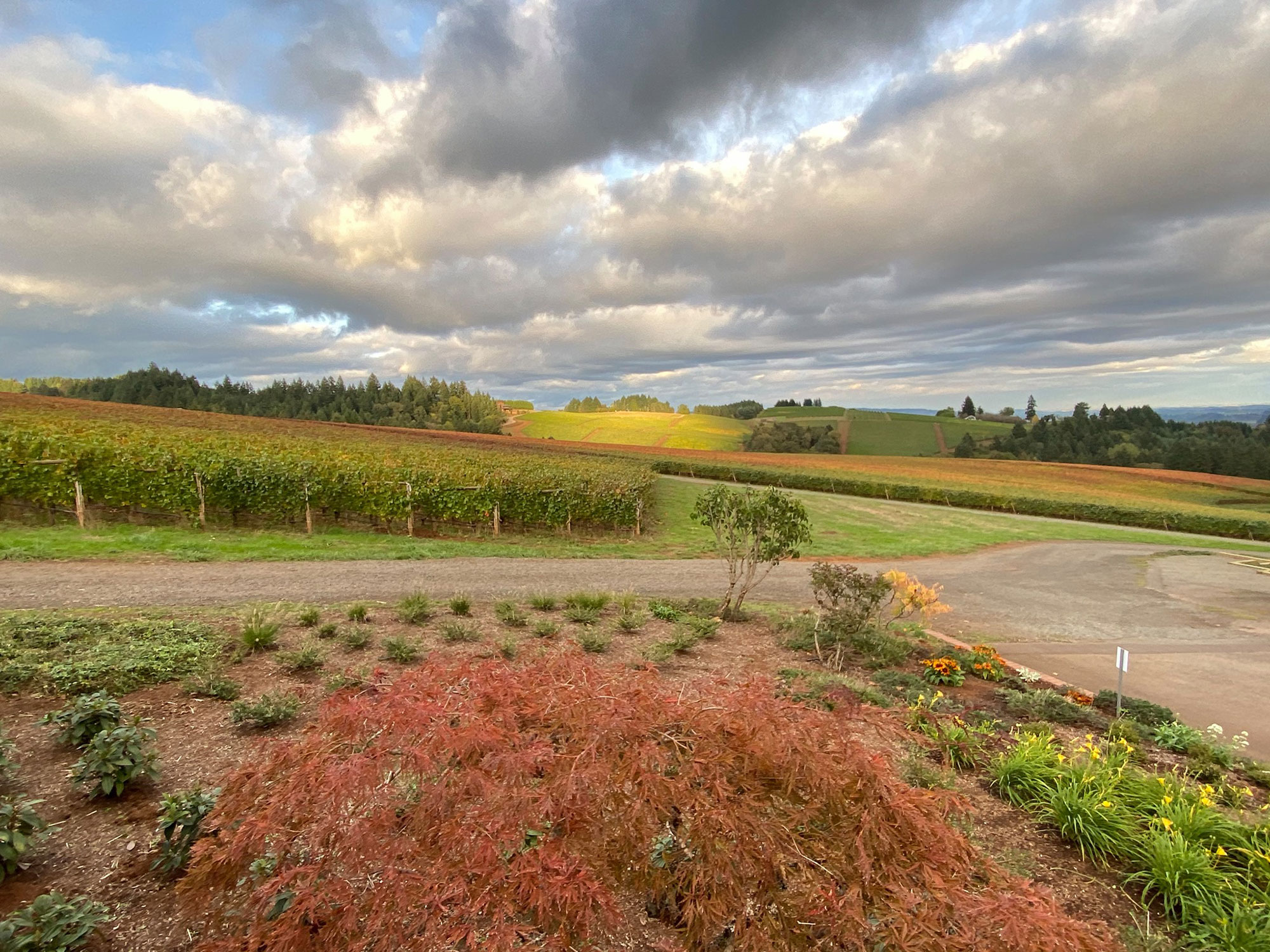 2021 Club Featured Winery
Knudsen Vineyards
9419 NE Worden Hill Rd, Dundee, OR 97115
Directions & Hours | Website
Established in 1971 by Oregon wine industry pioneer Cal Knudsen and his wife Julia Lee, Knudsen Vineyards is one of Oregon's oldest and largest family-owned vineyards. It is also the original site of Bonded Winery No. 52, the first commercial winery in the Dundee Hills. The 130-acre vineyard in the heart of the Dundee Hills AVA includes a mix of old-vine blocks and new high-density blocks planted with "Old World" Dijon clones. Knudsen Vineyard was a primary supplier of grapes to Knudsen Erath Winery from 1975 through 1986 and has been a leading supplier of fruit to Argyle Winery since 1987.
In 2012, the Knudsen family returned to winemaking under its own label. Knudsen Vineyards releases a vintage Chardonnay every spring and a vintage Pinot Noir every fall. In 2017, the family released the inaugural vintage of its third wine - the Knudsen Vineyards 2015 Pinot Noir Reserve.
Wines Produced: Chardonnay, Pinot noir, Rosé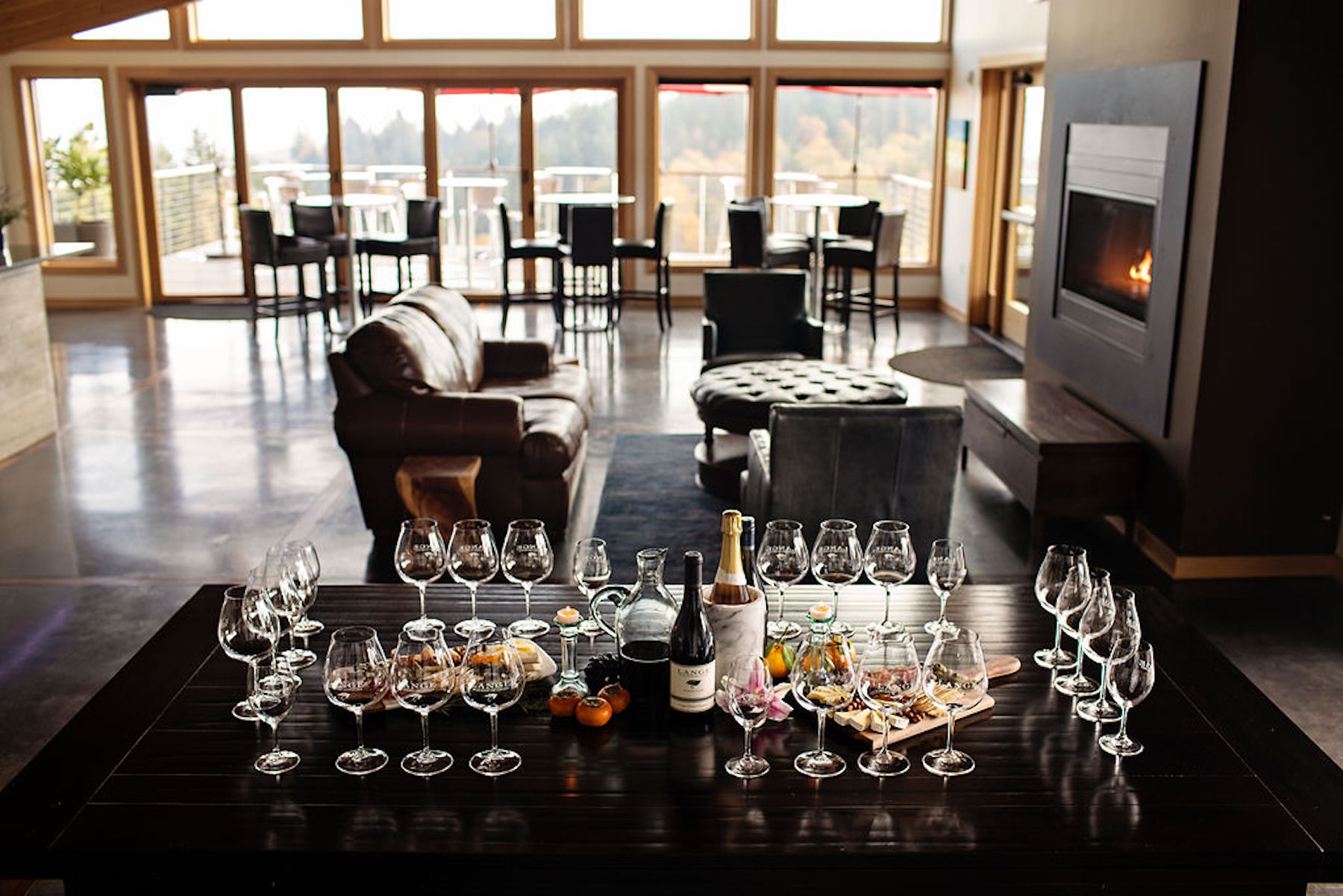 2021 Club Featured Winery
Lange Estate Winery & Vineyards
18380 NE Buena Vista Dr, Dundee, OR 97115
Directions & Hours | Website
Lodged deep in the swirling mists of the Dundee Hills, Lange Estate Winery has been making some of the best Pinot noirs in the U.S. for decades. Don and Wendy Lange founded their eponymous winery and estate vineyard in 1987 with the purchase of a thirty-acre parcel in Northern Willamette Valley's prestigious Dundee Hills. Their move north from Santa Barbara was precipitated by a few inspiring bottles from two of Oregon's most iconic producers: Eyrie and Erath.After producing their inaugural vintage in 1987 from Pinot Noir, Chardonnay, and Pinot Gris purchased from neighboring vineyards, the Langes planted their estate vineyard in 1988.
Jesse Lange joined the family winery in 2004 after harvest and winemaking stints in Santa Barbara and New Zealand. As the winemaker, Jesse has expanded the excellence of the Lange Estate wines producing stunning Chardonnays and adding a beautiful sparkling rosé to the line. For WineryHunt Members, this is a classic Oregon winery experience, which will only deepen ones appreciation for the wines made in this state.
Wines Produced: Chardonnay, Pinot noir, Pinot gris, Rosé, Sparkling wine
Featured in Previous Years
While these wineries aren't offering benefits in 2021 to WineryHunt Club Members, they are well worth visiting when you are in Dundee.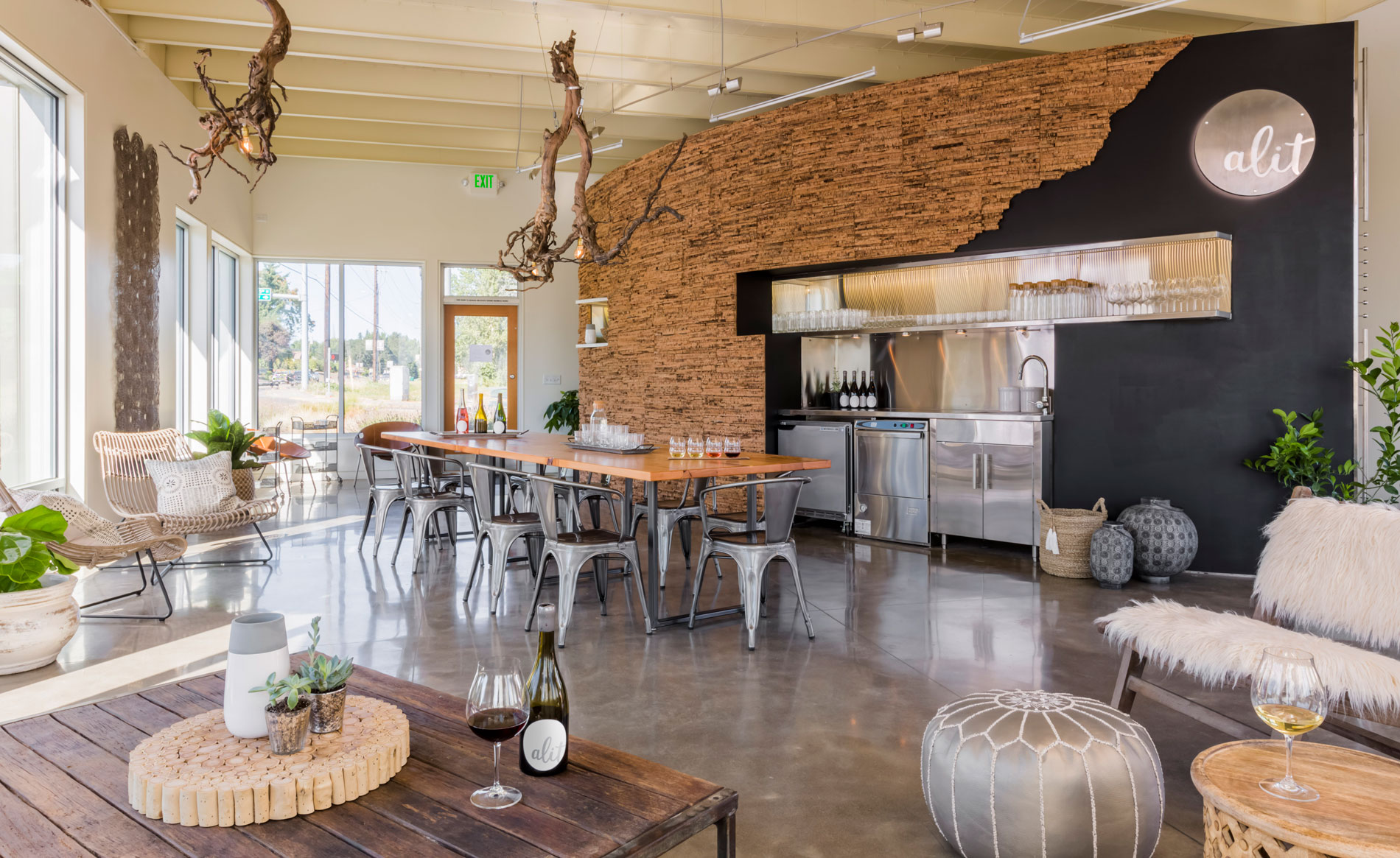 Alit Wines
Alit Wines crafts delicious, small-production wines using Old World methods and minimal intervention. In addition to producing beautiful Pinot Noir, Rosé, Chardonnay and Champagne(!), Alit Wines is focused on keeping their wine costs low and being totally transparent about their pricing. They sell only Direct to Consumer and avoid the markup that comes with traditional retailer/distributor relationships. The result is a great bottle of wine at very accessible prices.
The modern tasting room in downtown Dundee is more like a living room than a traditional tasting room... guests can sit wherever they are most comfortable and enjoy a full flight of wine in leisure. It's a great place to hang out and just soak in the environment and wines.
Wines Offered: Pinot Noir, Chardonnay, Rosé, Champagne
"We are locals and Alit is our go-to tasting room. We love spending time there with the knowledgable, friendly, and fun staff. All of their wines offer something unique and interesting. Highly recommended!" -EL, Google Review
531 OR-99W, Dundee, OR 97115
Directions & Hours
Website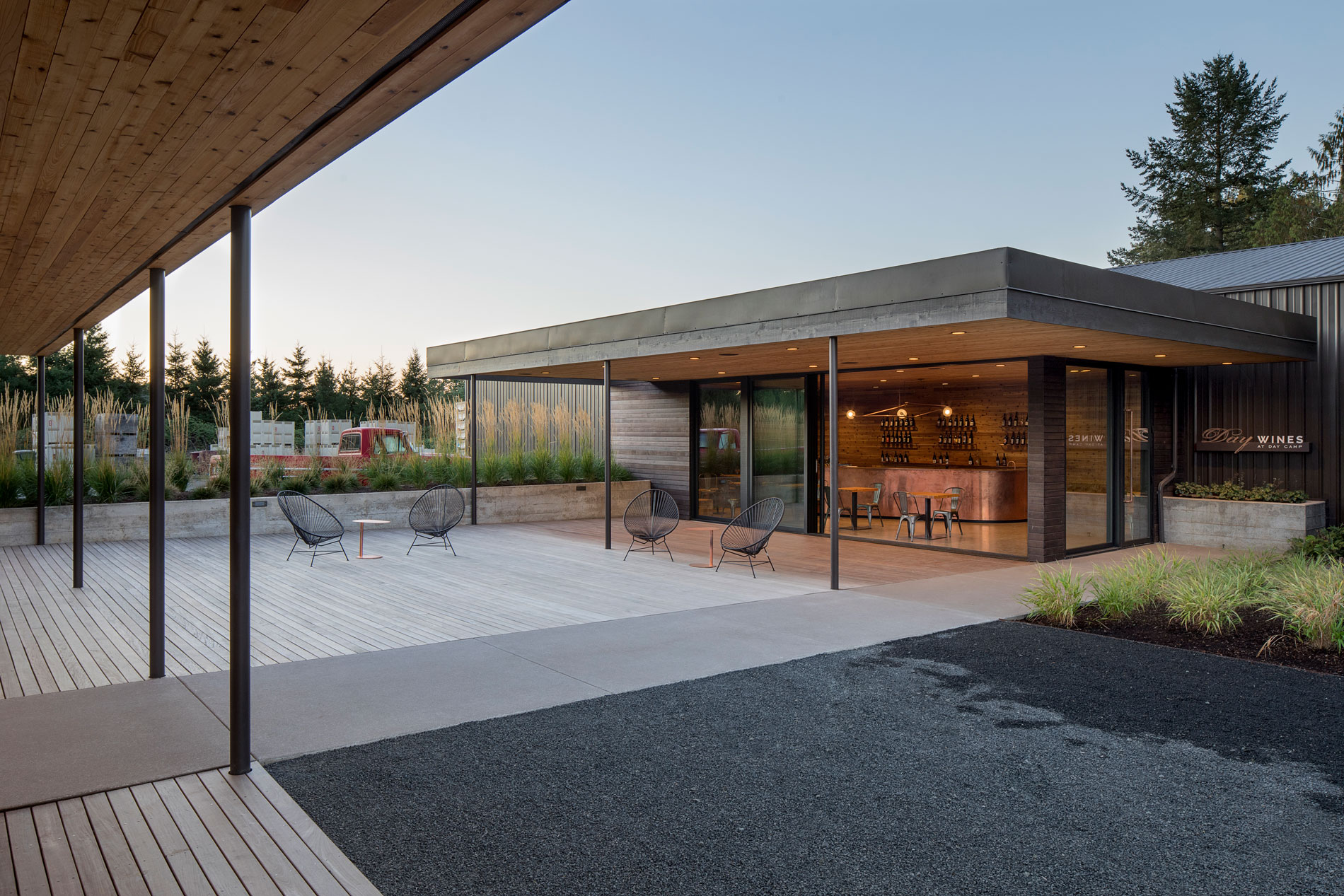 Day Wines at Day Camp
21160 OR-99W, Dundee, OR 97115
Directions & Hours | Website
Day Camp, the collective home of eleven small producers, is one the Willamette Valley's newest winemaking cooperatives. The star of the show at Day Camp is winemaker Brianne Day and her eponymous label Day Wines. Brianne is a rising-star in Oregon wine country, thanks in part to her creativity in the cellar. Brianne produces some of the most fascinating wines in Oregon, never shying away from uncommon varietals and unique blends. Try the Tears of Vulcan (blend of Viognier, Pinot gris and Muscat), or the sparkling Mamacita Pétillant Natural (blend of Vermentino and Muscat).
The gorgeous tasting room on the south end of downtown Dundee offers wine flights, wines by the glass, and by the bottle. Taste wines from Day Wines as well as some of the other producers making wine in this shared space, including Jackalope Wine Cellars and Maloof.
Wines Offered: Pinot Noir, Red & White Blends, Petillant-Naturel, Rosé, Chenin Blanc, Chardonnay, etc.
"Relaxed atmosphere, easy access, sun-cover, family friendly, and creative wines. Lovely." -SC, Google Review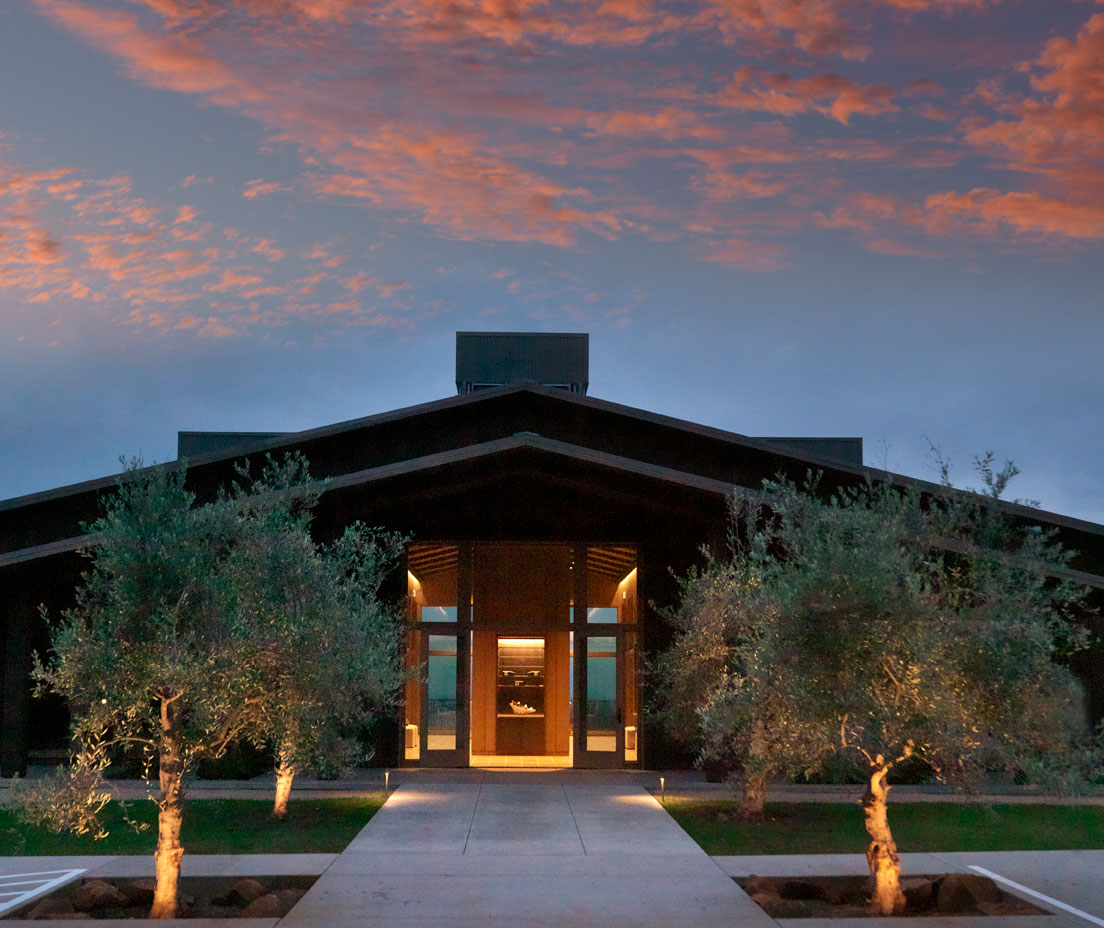 Domaine Roy & fils
8351 NE Worden Hill Rd, Dundee, OR 97115
Directions & Hours | Website
The mission at Domaine Roy & fils is to produce wines of purity and transparency at the highest level from their land in Dundee and Carlton. Marc-André Roy and winemaker Jared Etzel established Domaine Roy & fils in 2012 to celebrate their heritage and continue the winemaking history of their fathers, Robert Roy and Michael Etzel, who founded Beaux Frères Winery in 1991.
Over 20 years later, the two families have kept the same focus of producing timeless wine through meticulous and almost obsessive work in the estate vineyards. Through careful stewardship of the land, a minimalist winemaking approach and a commitment to organic farming, Domaine Roy et fils wines exhibit a full expression of vintage and terroir. The hospitality experience at the stunning winery includes a visit of the cellar, followed by a seated and hosted tasting of their current release wines.
Reservations are encouraged on weekends. Call 503-687-2600 or book online (select Origin Tasting). Closed Jan 1 & 2 for New Years
Wines Offered: Pinot Noir, Chardonnay
"Great experience with friends at Domaine Roy for the afternoon. The deck is beautiful with spectacular view. They showed us the production process which was amazing. Down to earth people and thoughtful winery." -NB, Google Review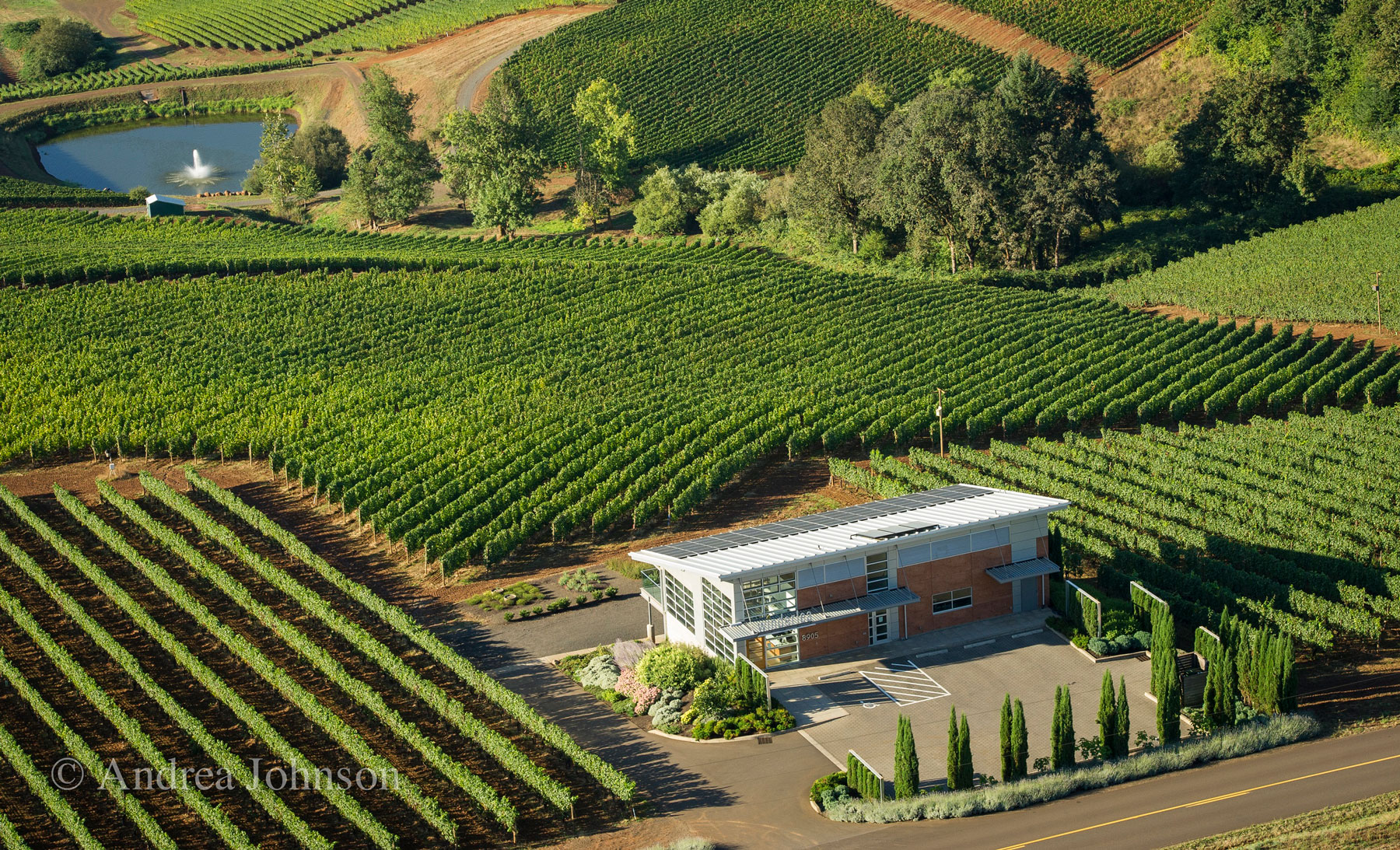 Winderlea Vineyard & Winery
8905 NE Worden Hill Rd, Dundee, OR 97115
Directions & Hours | Website
Winderlea is a boutique winery specializing in the limited production of Pinot noir and Chardonnay from Oregon. Hand crafted by acclaimed winemaker Robert Brittan with minimal intervention and the modest use of new French oak barrels, these wines are food friendly and classic in style.
The tasting room is located midway up Dundee's famous Worden Hill Road in a modern building featuring stunning views of the surrounding vineyards. From ambience to the wine in your glass, this is a wine tasting experience you'll be eager to return to.
Reservations are required on weekends. Call 503-554-5900. Closed Jan 1 & Jan 20 for Holidays.
Wines Offered: Pinot Noir, Chardonnay, Rosé, Pinot Blanc
"Our favorite winery stop in Oregon during a recent trip, and the absolute best Pinot Noir I've ever tried. Beautiful building, beautiful grounds, and a kind and knowledgeable host who was great to us even though we showed up at the very end of the day." -AG, Google Review
Resources for your Tasting Adventure to Dundee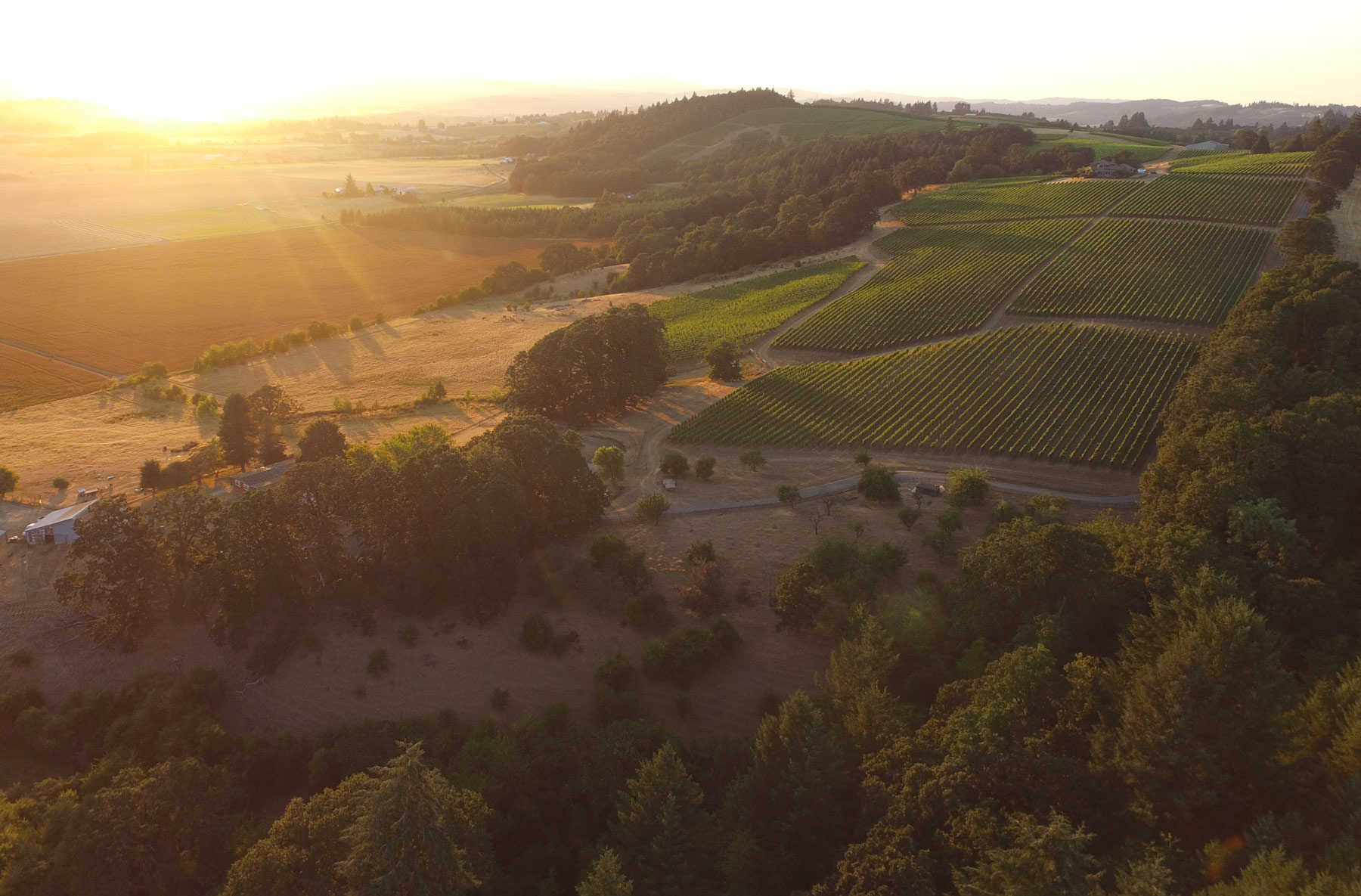 Join the WineryHunt Oregon Club
Club members enjoy benefits at 20 premium Oregon wineries throughout the year
View Club Details