Tasting Routes are drivable wine tasting itineraries that consumers can follow to guide their trip through wine country. Each tasting route is presented as an elaborate, scrollable webpage that highlights each winery on the route as well as driving directions and other attractions.
For examples of Tasting Routes, view our active Tasting Routes here.
Cost Per Winery
$250
3 Winery Minimum Per Route

Get Started
Dedicated Route Page

Promoted on Facebook, Pinterest, Instagram, etc.

SEO Supercharged to rank highly on Google

Promoted to Email List

$50 facebook promotion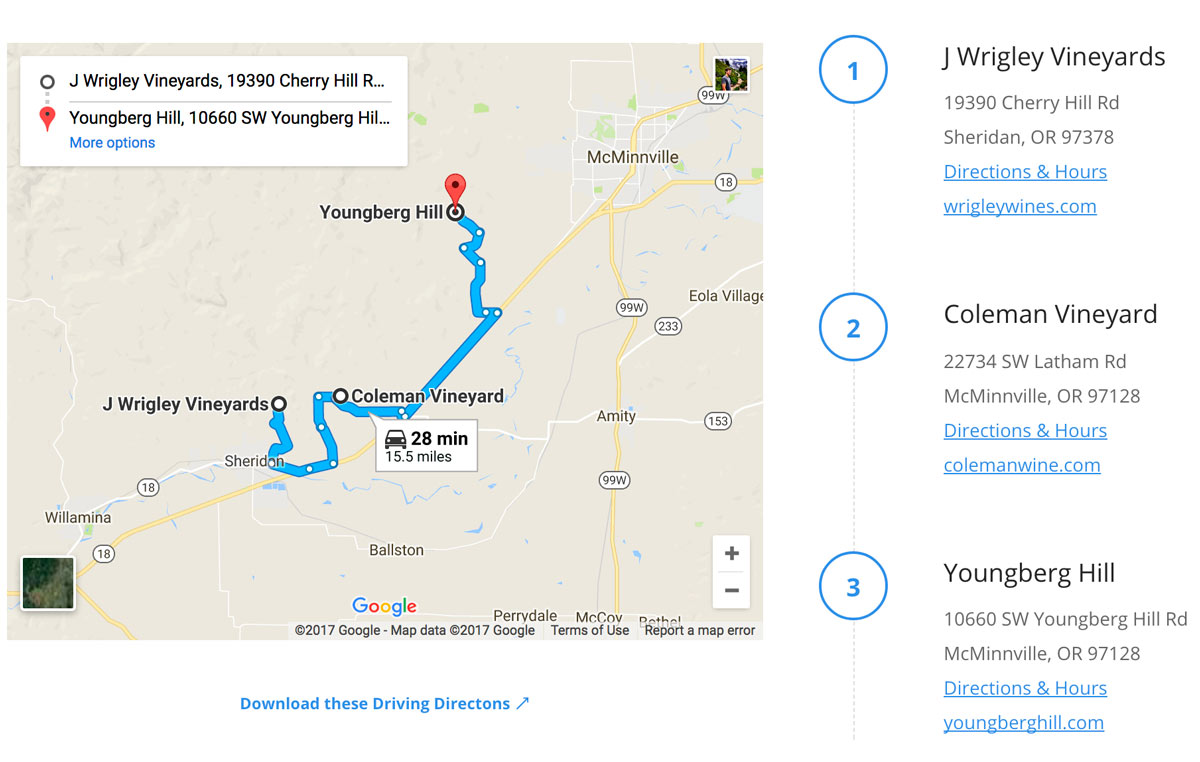 Dedicated Page for your Route
With long-scroll functionality, this is essentially a beautiful mini-website built just for your tasting route
See Current Examples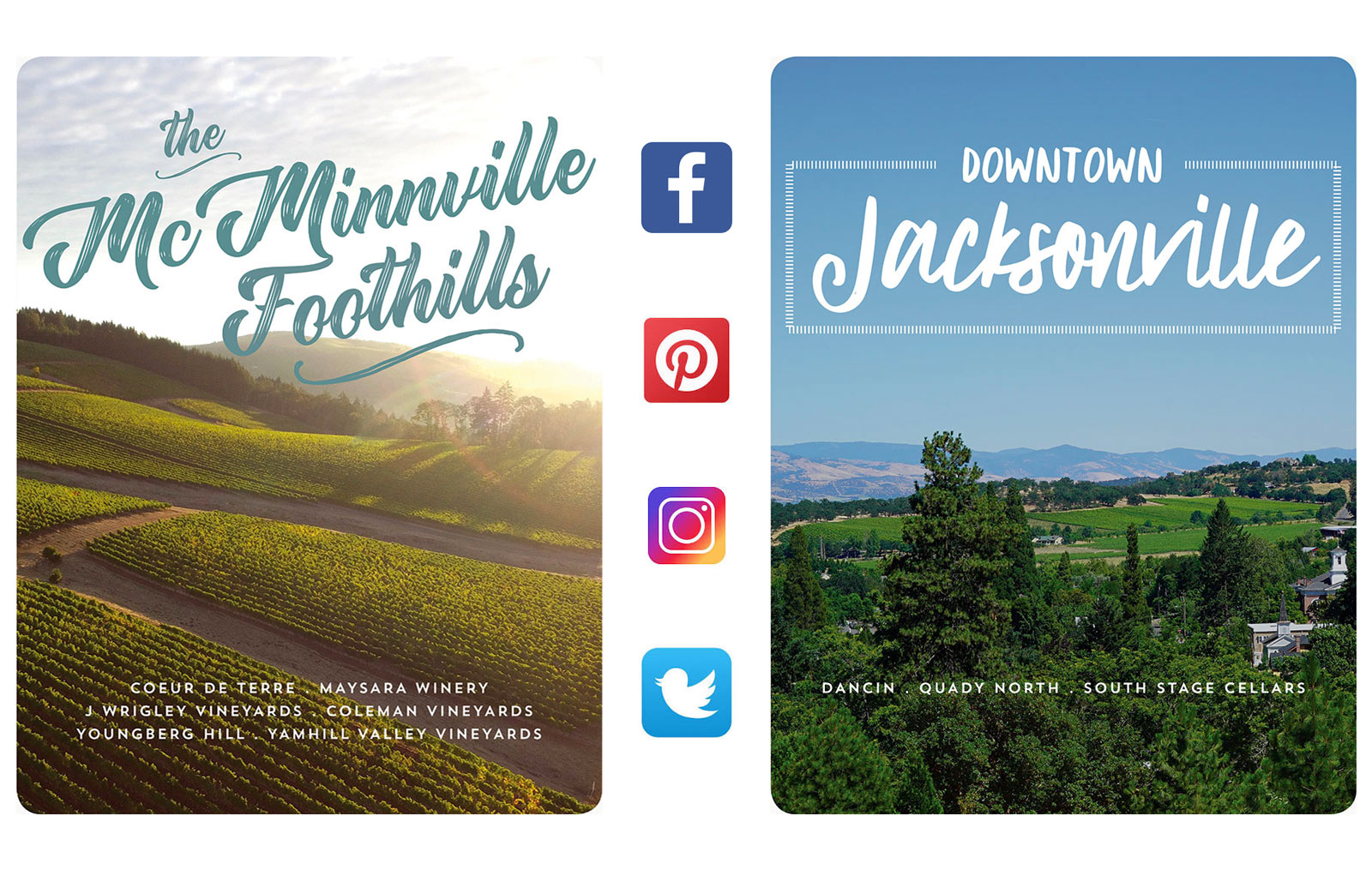 Promotion to Social Media
Each route comes with a custom-designed route cover and is shared to Pinterest, Facebook, Instagram and Twitter. All routes are promoted on Facebook with $50 budget.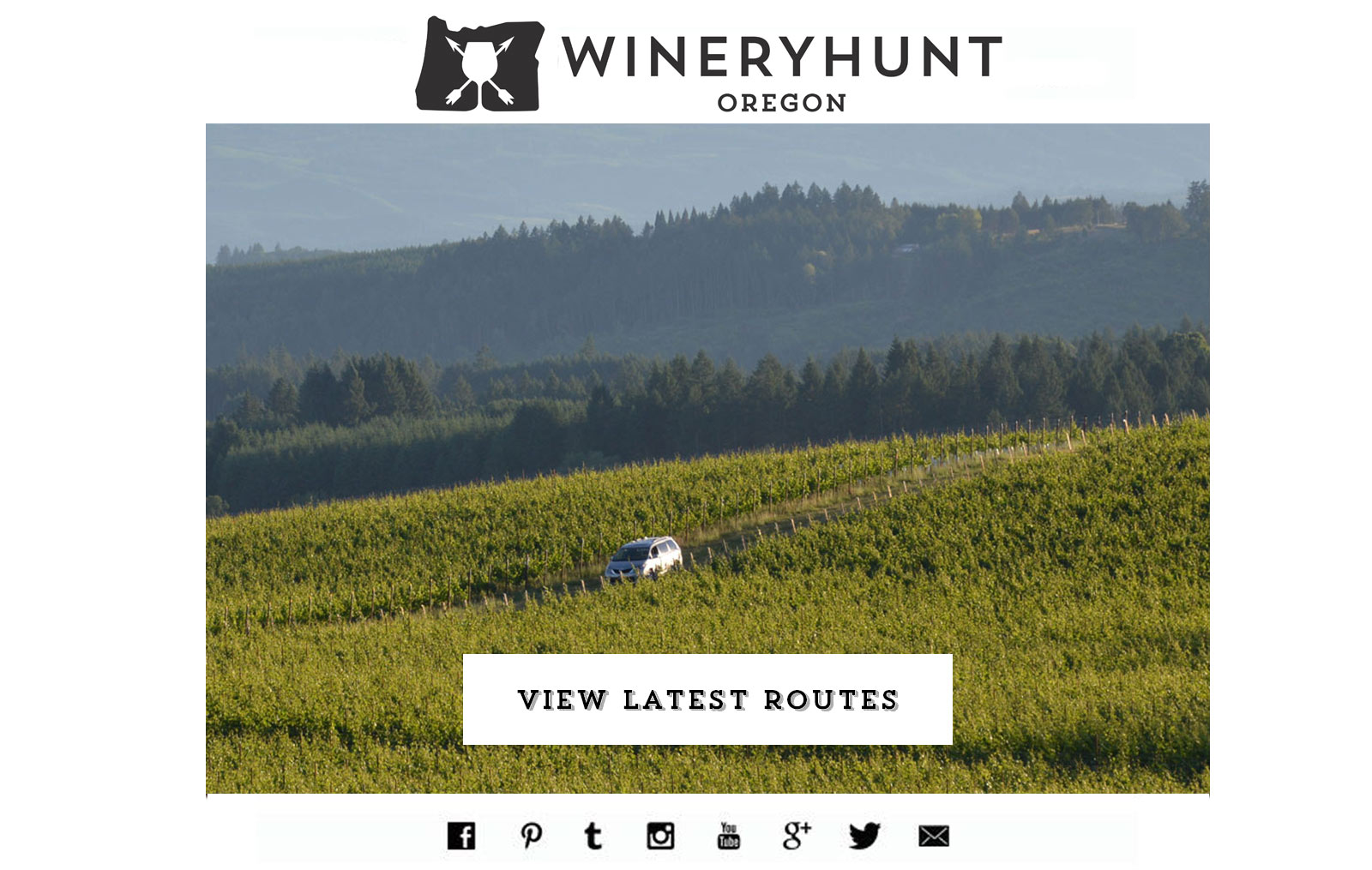 Promotion to Mailing List
Our growing list of Oregon wine super-fans will be introduced to your route via our monthly email campaigns.

Supercharge your route with a professional video
Want to really stand out? We are pleased to offer professional video services to tell the story of your route, with a combination of aerial and ground video of all featured wineries
Video!
Route Video
$

1500
Cost can be split among wineries
Get Started
Features all route wineries

Aerial & Traditional Shots

Promoted on social media
Frequently Asked Questions
What are the limits of wineries per route?
There is a minimum of three wineries and a maximum of six wineries per route. Routes with five or six wineries will be split into "two-day" routes, with a suggested accommodation and restaurant between the two days of tasting.
Can tour guides be promoted on a route?
Yes! Each route can feature one tour guide / driving service. This cost is paid on a monthly basis directly by the tour guide and is the only form of traditional advertising on WineryHunt.
Learn More.
What is your promotion strategy for the routes?
Besides promotion on social media and to our mailing list, our core focus and strategy is on best SEO practices to ensure high ranking in search engines. Routes on the first beta year of WineryHunt (Aug 2016-Aug 2017) quickly ranked very high, including the #1 spot for people searching for "Best Wineries McMinnville"
What types of routes are you looking for?
Routes can be based on geographical location, highlighting your unique micro-pocket of wineries. Routes can also be organized by theme, such as hidden gems of Yamhill County or wineries with art galleries in Newberg. Be creative! This is a chance to brand more narrowly than the current AVA system.
Who pays for the route?
Normally, we will invoice each participating winery for their share of the route ($300 each). However, the costs can be allocated differently if certain wineries in your route are unable or unwilling to pay their portion, or if a tour guide or other business is covering the costs.
How do we get started?
Talk with your neighbor wineries to come up with the theme and participating wineries in your route. Once this is determined, just fill out the form below and we will reach out to everyone with the required information (photos, text, invoice).
Interested? Submit Your Route Details Here