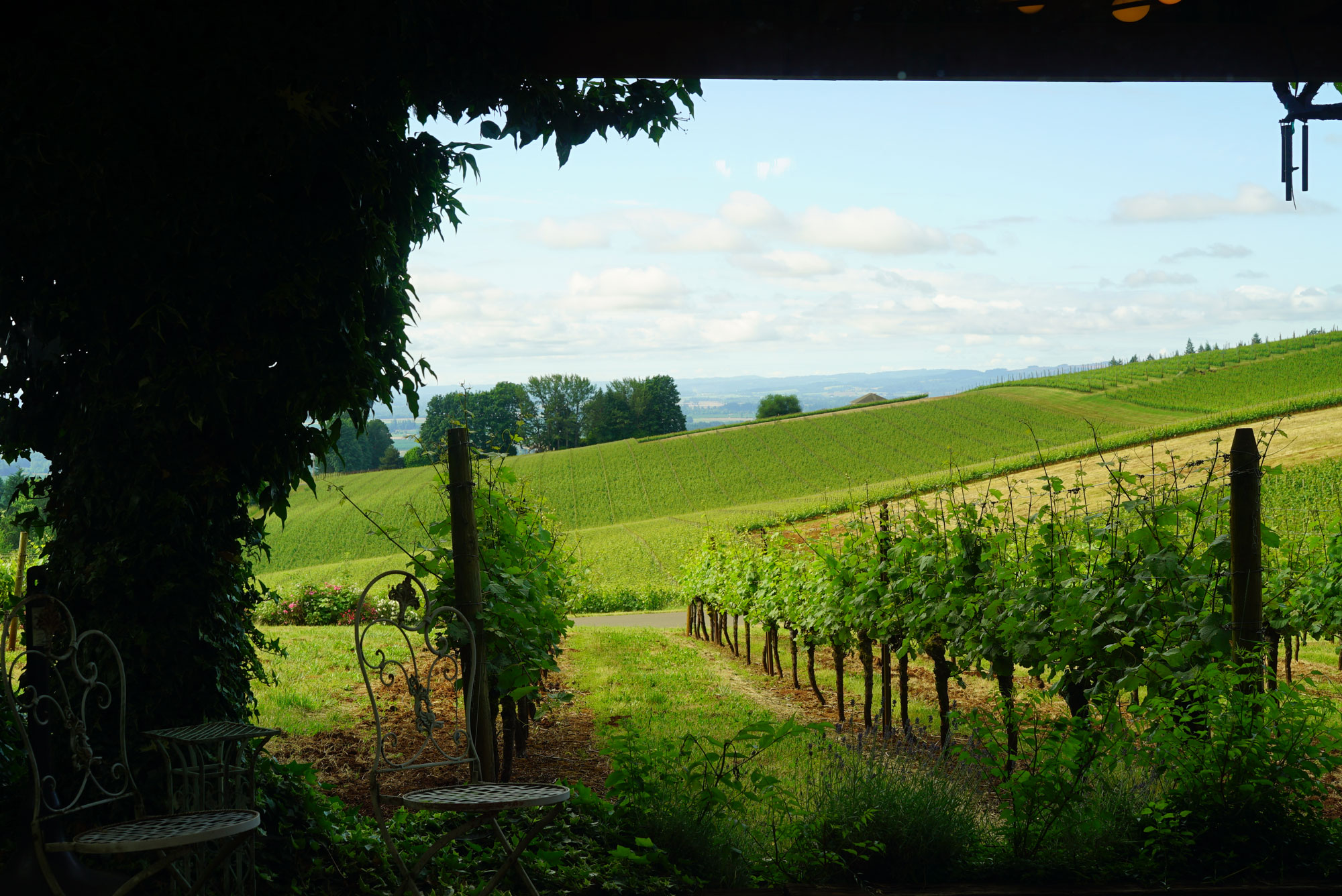 A Wine Tasting Itinerary in Oregon's South Dundee Hills
Note
This article is for trip planning purposes. Only the wineries that are listed as 2021 Club Featured Winery are offering WineryHunt Membership Benefits this year.
The Dundee Hills are one of Oregon's most acclaimed wine tasting regions
A very popular wine tasting destination, the Dundee Hills is home to some of Oregon's most revered Oregon wineries. A hallmark of the Dundee Hills AVA is the red volcanic Jory soil... it's ideal for growing wine grapes and imparts a distinctive red fruit character in the wines (think strawberry, cherry and raspberry). There is a high density of wineries in Dundee and visitors could spend many days seeing it all. Start with this itinerary and see where your adventure takes you.
40 minutes from downtown Portland
The Dundee Hills are a 40 minute drive southwest of Portland
Get Directions
Dozens of Wineries
There are dozens of wineries in the famed Dundee Hills. We've highlighted three of the best on the south end of this winegrowing region.
2021 WineryHunt Club Featured Winery
WineryHunt club members enjoy waived tastings and 10% discounts at White Walnut Estate in 2021.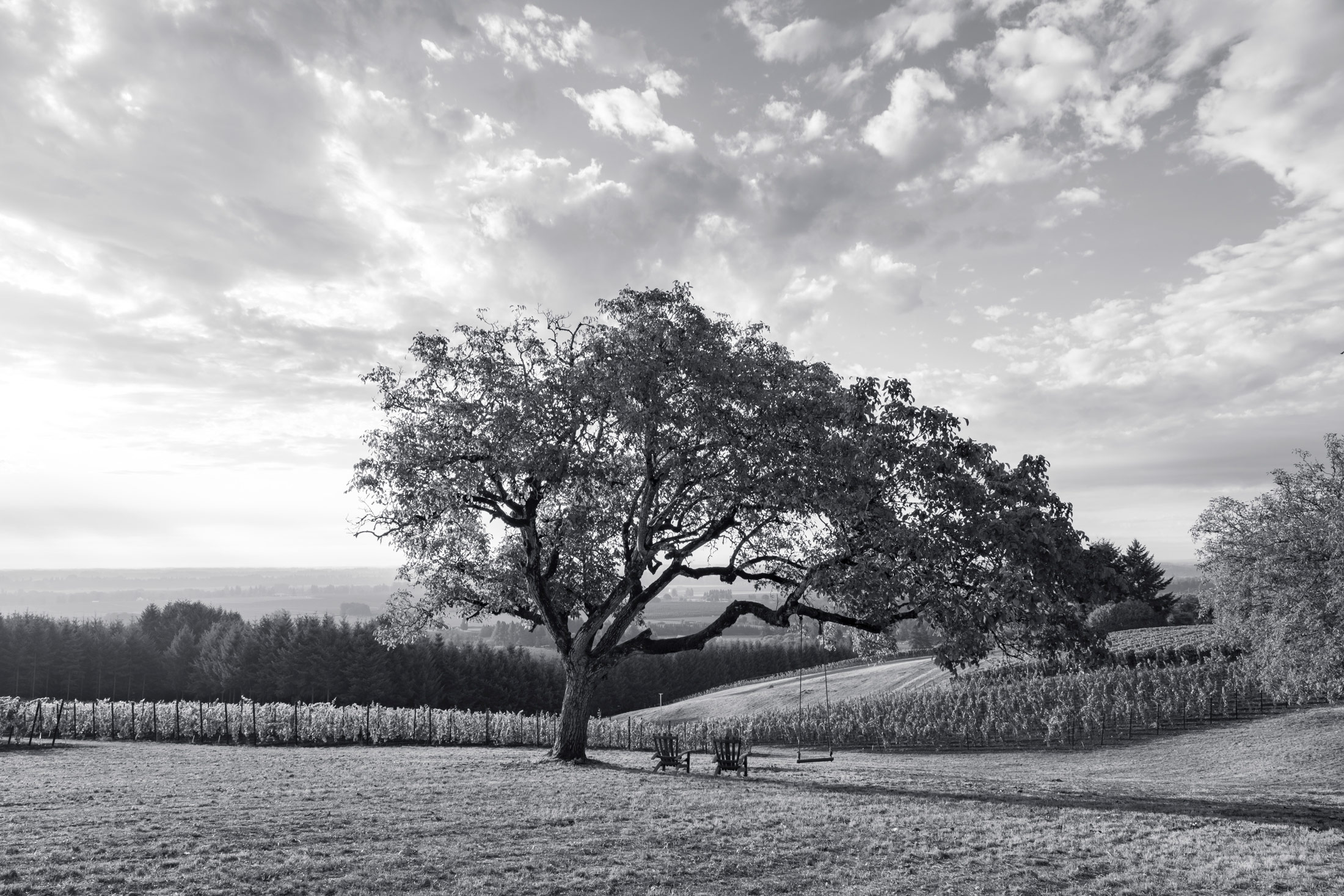 2021 CLUB FEATURED WINERY
White Walnut Estate
NE Trunk Rd., Dundee, OR 97115
Email chris@whitewalnutestate.com for tasting reservations
Website
White Walnut Estate is the brainchild of Chris Mazepink, former winemaker at Archery Summit. Chris purchased a small parcel of land next to Archery Summit and Domain Drouhin in the Dundee Hills several years back and has planted it mostly to Chardonnay. While the rest of us hunkered down during Covid, Chris built his charming winery on the property, complete with a small barrel cave carved into the hillside. This is a brand new winery that Wineryhunt members will be the very first to experience in 2021.
White Walnut Estate is a USDA Certified Organic & Demeter Certified Biodynamic vineyard rooted in the epicenter of Oregon's heralded Dundee Hills. Formerly a walnut orchard, the property had been unattended for several generations and was completely overgrown with bramble when Chris Mazepink purchased the site in 2013.
For Chris, the identity of the place was already written, now, it was just a question of planting it with a great diversity of clones and let that identity sing through. Oregon wine lovers will appreciate the wines Chris has crafted. There is no house style. There is no standard list of bottlings. This is all about the vineyard and letting the story of the vintage unfold in whatever way it does. A refreshing breath of pure wine expression, a tasting at White Walnut Estate is truly special.
Wines Produced: Chardonnay, Pinot noir
Featured in Previous Years
While these wineries aren't offering benefits to WineryHunt Club Members in 2021, they are well worth visiting when you are in the south Dundee Hills.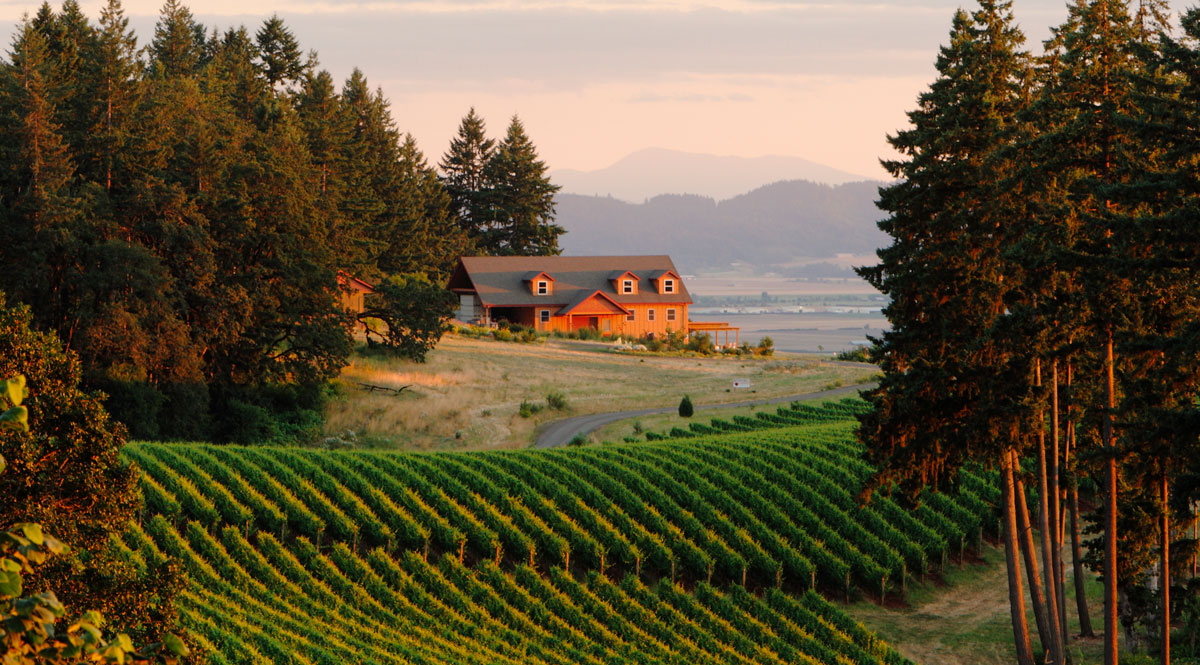 Winters Hill
6451 NE Hilltop Ln, Dayton, OR 97114
Directions & Hours
Website
Winter's Hill is a small family-run estate winery at the top of the southern Dundee Hills. The Gladhart family owns and operates Winter's Hill, from managing the vineyard and the rest of the farm, to making the wines and greeting you in the tasting room when you come to visit. Thirty five acres of vineyards are nestled into a 150 acre farm including fir and oak forests. The Gladharts say that farming their land is a privilege, and they have followed sustainable farming practices since Peter and Emily Gladhart planted the first vines in 1990. Open daily, the tastings are conducted in the working winery so you can see, smell and hear all the action. The views are remarkable and wines critically-acclaimed.
Wines Produced: Pinot Noir, Pinot Gris, Pinot Blanc and sweet wine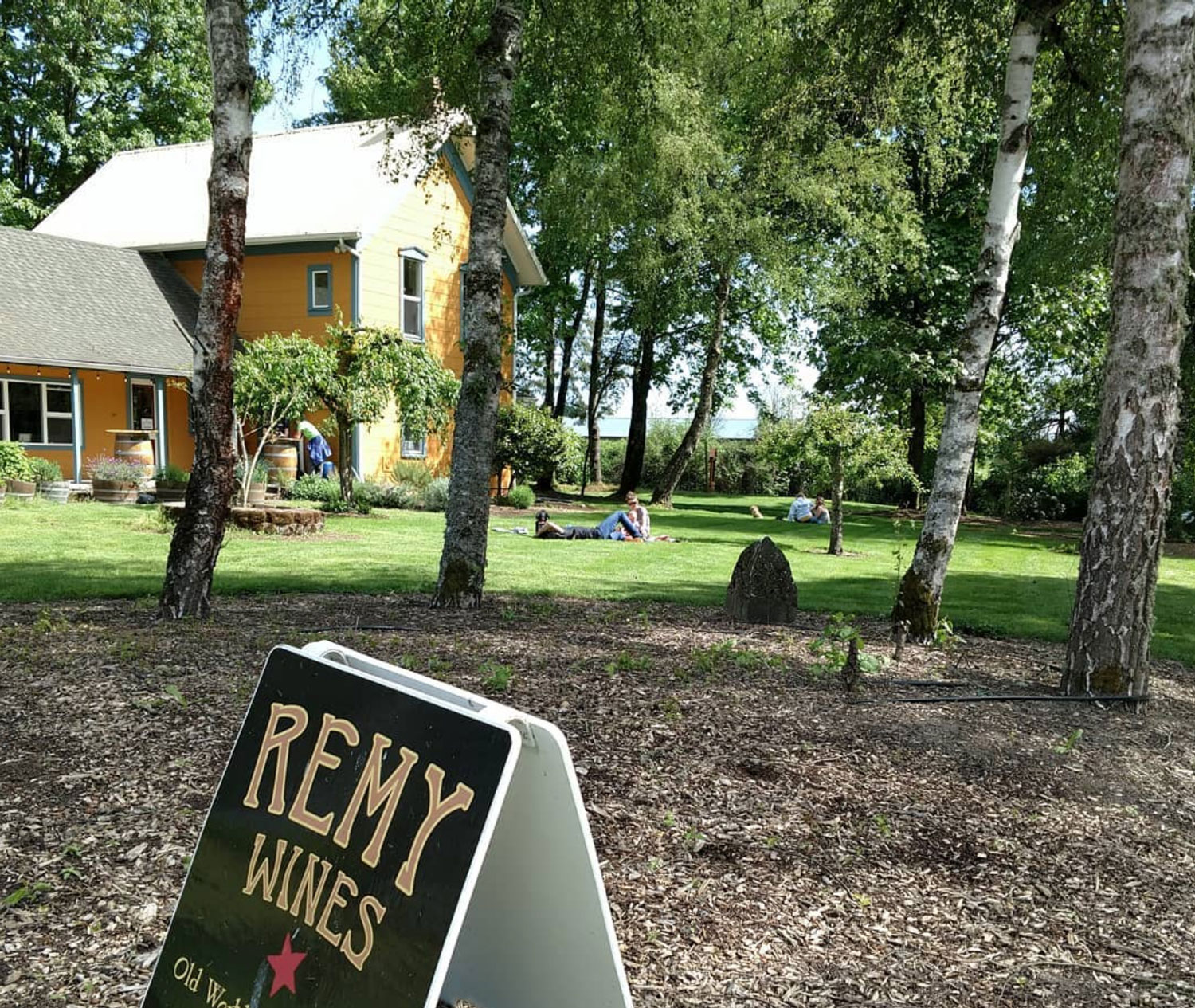 Remy Wines
17495 NE McDougall Rd, Dayton, OR 97114
Directions & Hours
Website
With a focus on Italian varietals, this isn't your typical Oregon winery. Yet after a day of tasting Pinot noir and Chardonnay, a departure to other varietals is always welcome! Remy Wines is based in an old farmhouse at the foot of Breyman Orchards Road. Winemaker Remy Drabkin grew up in the Oregon wine industry and has been making wines since she was 14! She started her eponymous Remy Wines label in 2006 and opened her charming farmhouse tasting room in 2017. The tasting room and surrounding grounds is a relaxing environment to explore her excellent Italian varietals, including Tempranillo, Barbera, and Nebbiolo. The grapes are sourced from choice vineyards in both Oregon and Washington and reflect the best that the northwest has to offer.
Wines Produced: Tempranillo, Lagrein, Barbera, Sangiovese, Nebbiolo, Rosé, Pinot Noir, Red Blends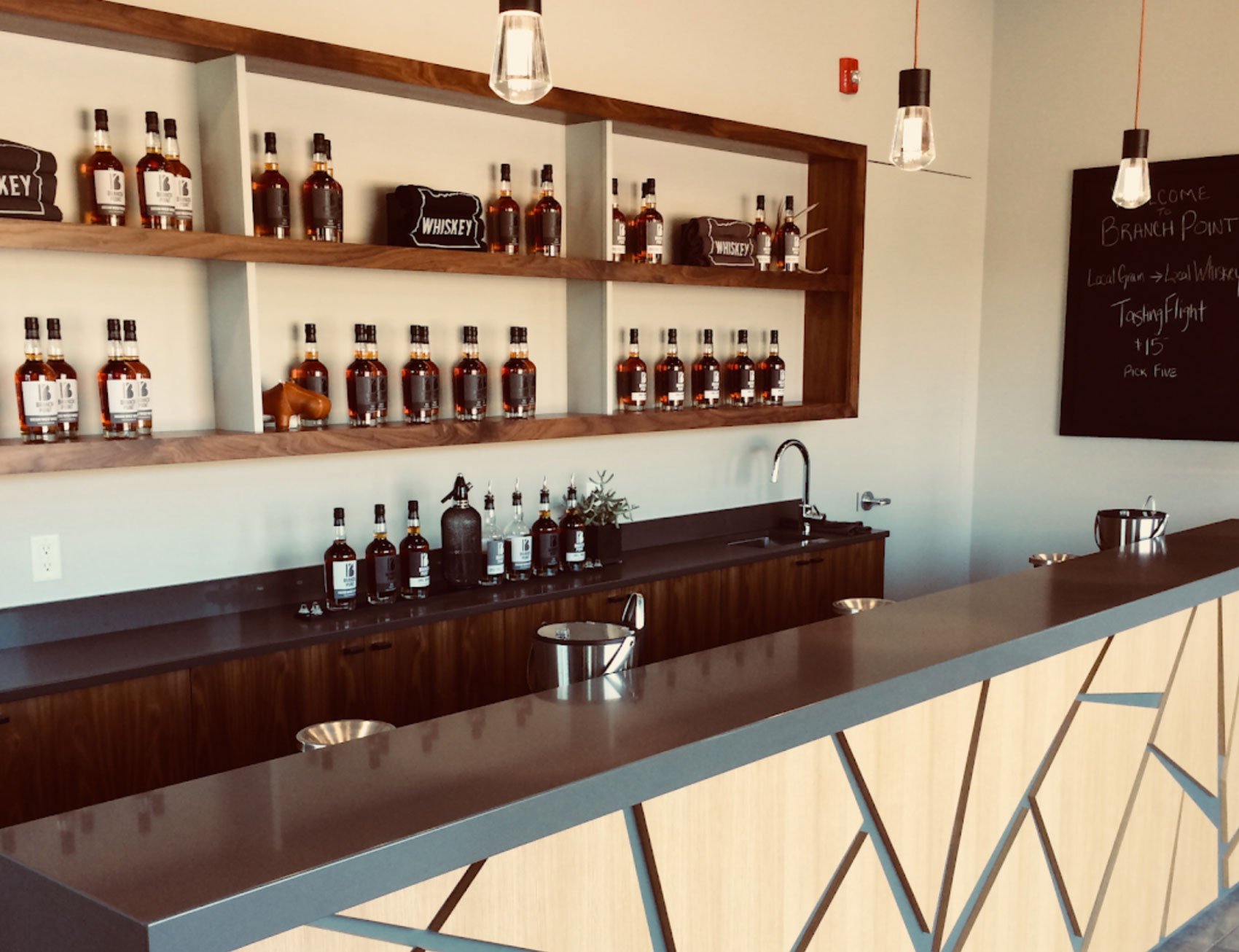 Branch Point Distillery
15800 NE McDougall Rd, Dayton, OR 97114
Directions & Hours
Website
Branch Point Distilleryis a small independent whiskey distillery in the heart of Oregon wine country. Located at the base of the South Dundee Hills by Stoller Vineyard, the distillerysources grains from local farmers to produce unique Oregon whiskies not found anywhere else. They utilize traditional methods of production such as distillers' malt, pot stills, pre-prohibition barrel strengths, and non-chill filtration to create more flavorful and authentic whiskies. All of the whiskies are mashed, fermented, distilled, matured, and bottled on site.
The tasting room opened in late 2018 and is a modern, inviting space to taste through these high-end spirits. WineryHunt club members are encouraged to visit in February to enjoy a waived tasting of their flight of premium Oregon whiskies. Due to Oregon law, a 10% discount on whiskey purchases is not allowed. However, a 10% discount will be applied to purchases of other merchandise, including mixers, bitters, barware, etc.
Spirits Offered: Three different types of Oregon whiskey
Resources for your Tasting Adventure to Dundee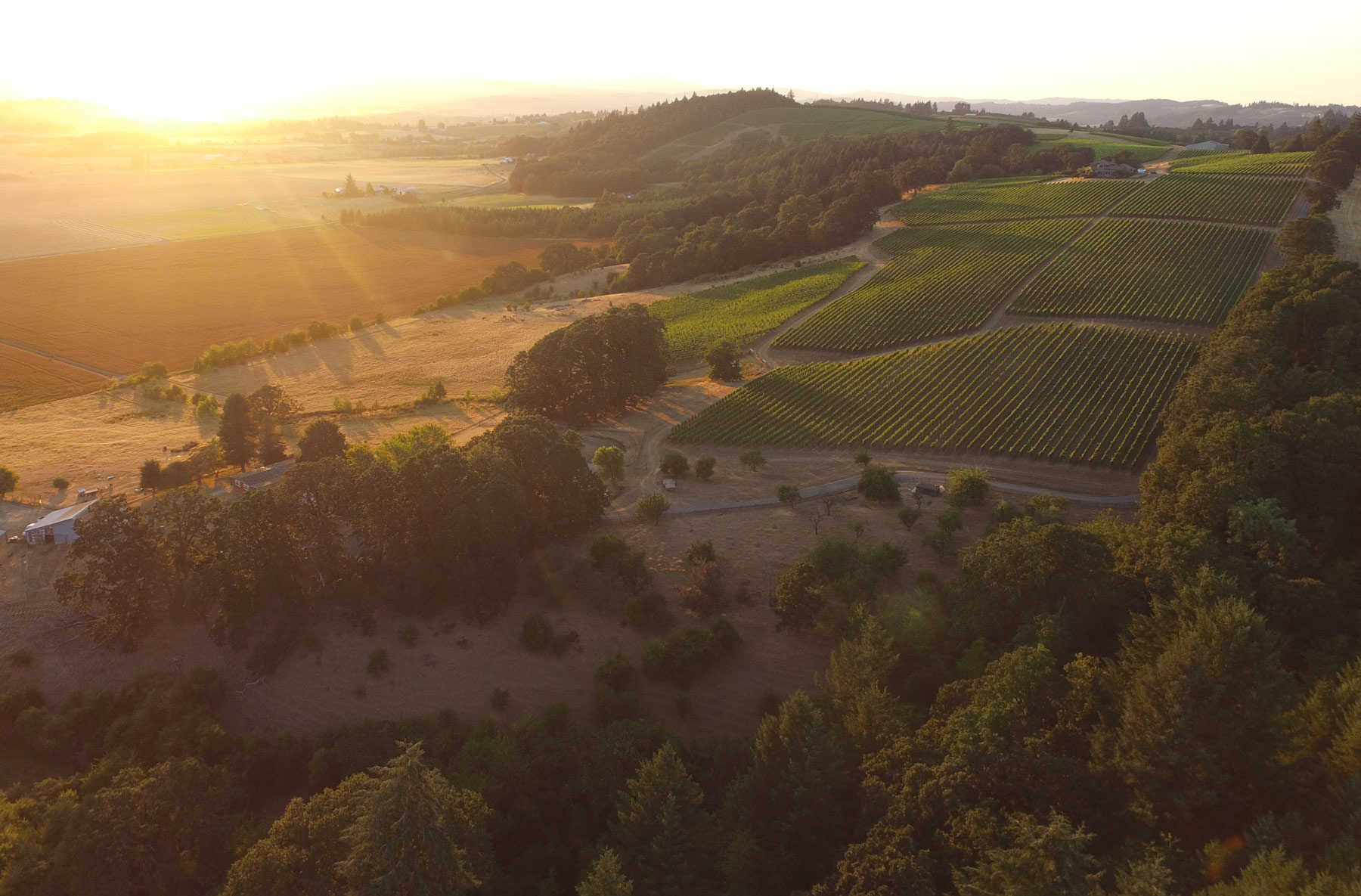 Join the WineryHunt Oregon Club
Club members enjoy waived wine tastings in 12 Oregon wine regions throughout the year
View Club Details