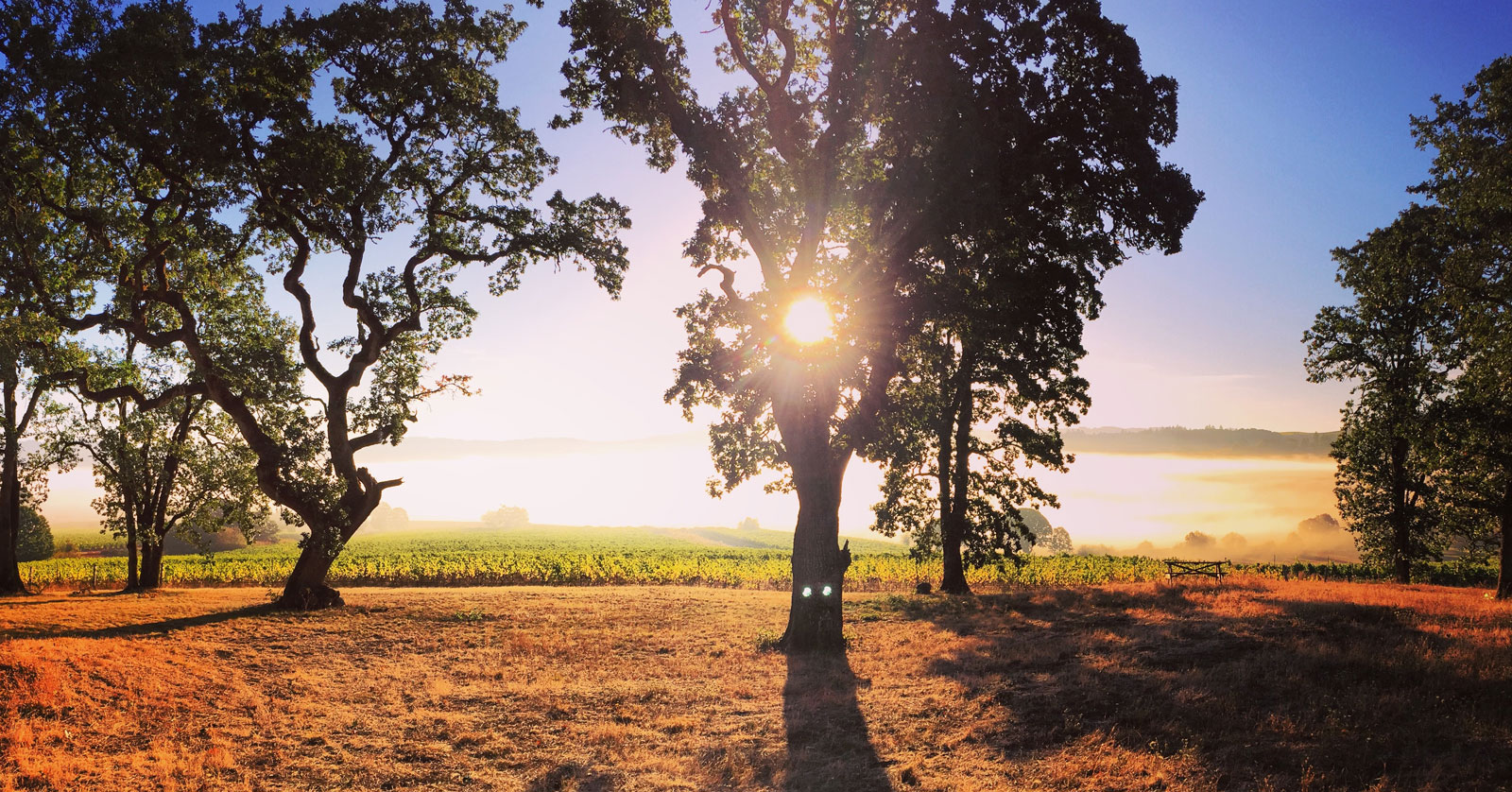 A Wine Tasting Itinerary in Oregon's Van Duzer AVA
Note
This article is for trip planning purposes. Only the wineries that are listed as 2021 Club Featured Winery are offering WineryHunt Membership Benefits this year.
The Van Duzer Corridor AVA is Oregon's newest official winegrowing appellation
The Van Duzer Corridor is the only break in Oregon's Coastal Range that lies on the western side of the Willamette Valley. This gap allows Pacific Ocean air to flow eastward into the Willamette Valley, moderating summer heat. The influence of the Van Duzer Corridor extends to the McMinnville and Eola- Amity Hills AVAs, but is perhaps most strongly impacted in the vineyards around Dallas and Rickreall. While this area was originally just part of the greater Willamette Valley AVA, it has just become Oregon's newest sub-AVA (The Van Duzer Corridor AVA!).
The cooling effect of the corridor leads to longer hang-times for the fruit and more complex wines for the wineries within the AVA. We've picked four of the best wineries to visit during your visit to this unique Oregon winegrowing region.
1 hour, 10 minutes from Portland
From Portland, travel south on I5 to Salem, then west on Hwy 22
Get Directions
The Van Duzer Corridor AVA
This area is currently waiting for official status as Oregon's newest American Viticultural Area
2021 WineryHunt Club Featured Wineries
WineryHunt club members enjoy member benefits at Johan Vineyards and Eola Hills Wine Cellars: Legacy Estate in 2021.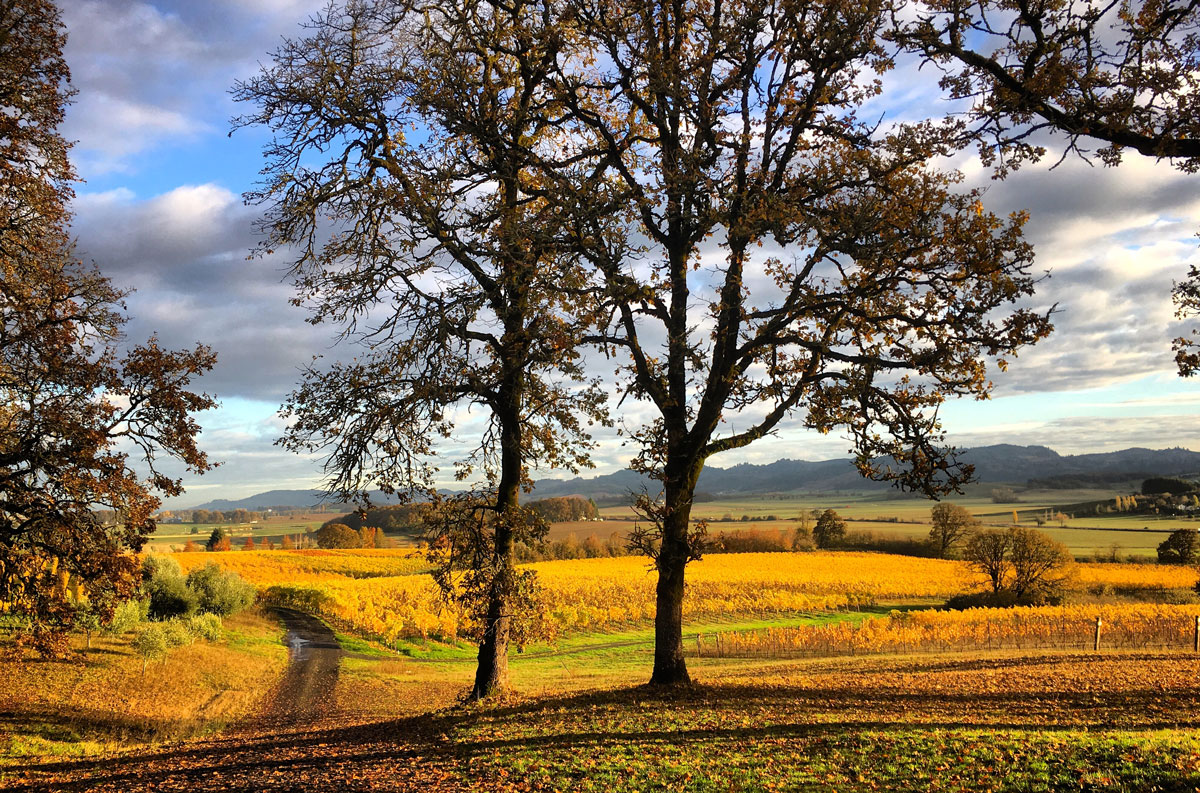 2021 CLUB FEATURED WINERY
Johan Vineyards
4285 N Pacific Hwy W, Rickreall, OR 97371
Directions & Hours
Website
Johan Vineyards is an organic, biodynamic vineyard & winery in Rickreall, 20 minutes northwest of Salem. This small, family-owned winery boasts an 85-acre biodynamic vineyard in the Van Duzer Corridor. The afternoon ocean breezes and cool evening temperatures lead to Burgundian-inspired wines of higher acid and complexity. All the wines are made in small, hand-crafted batches and cover a wide range of varietals including Pinot Noir, Chardonnay, Pinot Gris, Vin Gris, Blaufrankisch and Grüner Veltliner. Reviews for Johan consistently mention how friendly and educational the winery and tasting room staff are, and praise for Johan's wines are abundant among casual wine tasters and professional critics alike. There is seating outside with beautiful views, so be sure to visit and stay awhile!
Wines Offered: Melon de Bourgogne, Petillant-Natural, Sparkling Wines, Grüner Veltliner, Pinot Gris, Chardonnay, Pinot Noir,Blaufränkisch
"These continue to be some of my favorite wine in Oregon. They are beautifully expressive and continue to get better with each vintage. You'll get to taste though not just Pinot and Chardonnay but also Grüner and Blaufränkisch. The tasting room is simple but has a nice deck for bringing a picnic to enjoy the view." -PW, Google Review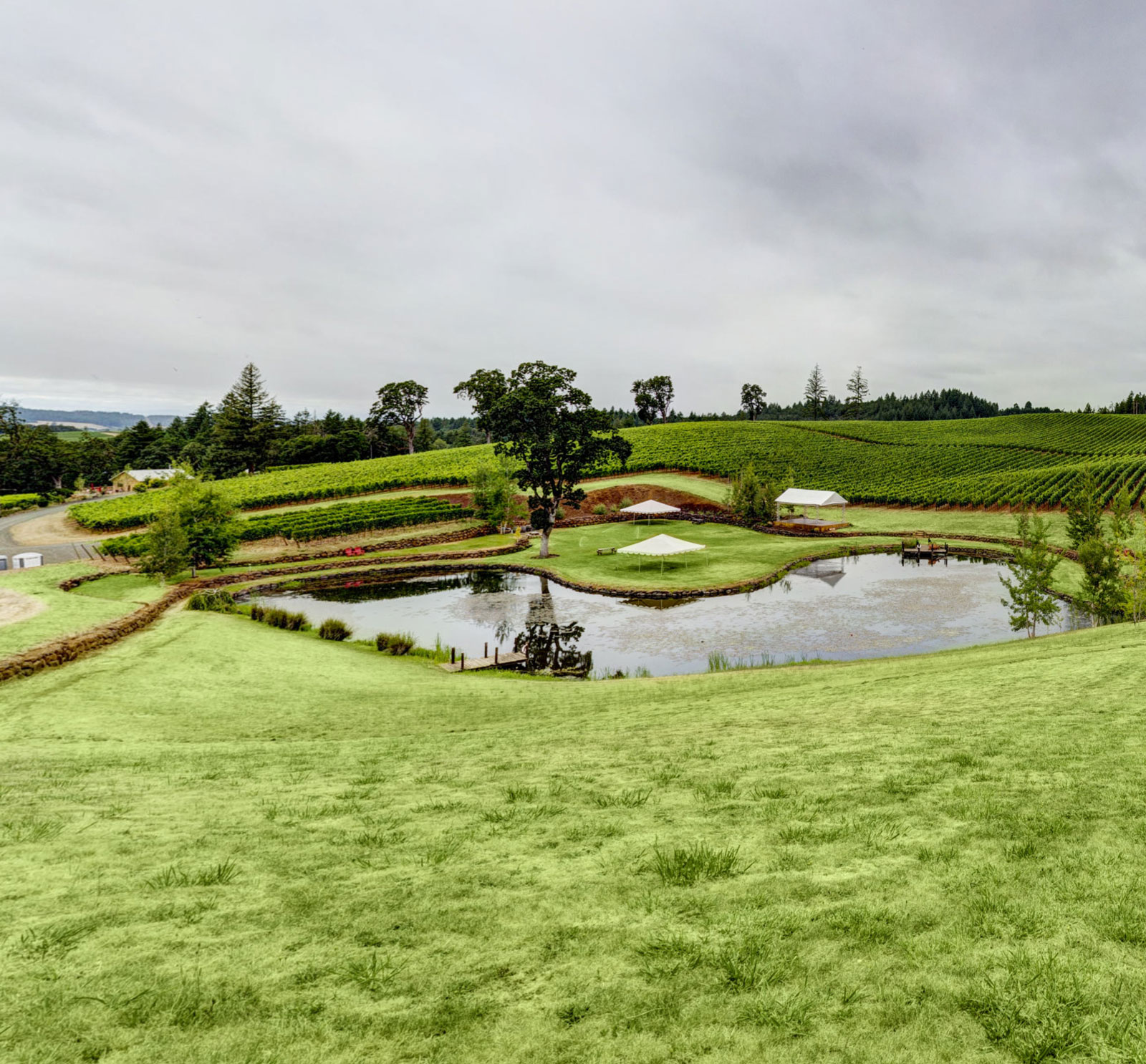 2021 CLUB FEATURED WINERY
Eola Hills Wine Cellars:
Legacy Estate
1600 Oak Grove Rd, Salem, OR 97304
Directions & Hours
Website
Planted in 2008, Legacy Estate Vineyard is the vineyard of longtime Oregon winery Eola Hills Wine Cellars. Situated on a southwest-facing hillside that's dotted with native White Oak trees, Legacy offers spectacular views of the Willamette Valley and the Coast Range. The tasting room on the property opened in 2018 and offers a stunningly gorgeous views of the property.... the ideal location to relax while you taste through the Eola Hills Winery wines. You are welcome to bring a picnic, take a walk, or relax in the shade of native oak trees next to the spring-fed pond.Open until 6pm Thursday through Sunday!
As a sidenote: Technically this vineyard is in the Eola-Amity Hills AVA and not the new Van Duzer AVA, though the impact of the corridor is very much still felt here.
Wines Offered: Sparkling Wines, Riesling, Pinot Gris, Gewürztraminer, Chardonnay, Rosé, Pinot Noir, Sangiovese, Merlot, Tempranillo, Syrah, Cabernet Sauvignon, Red Blends, Dessert Wines
"Wow! We were blown away! Features a stunning view of the Willamette Valley and an open air tasting room. Large deck for outdoor seating. Nestled among the grapevines and live oaks on the property. Love the atmosphere and natural feel. The staff were fabulous and attentive while supplying our tastes. This is our new favorite tasting room!" JM, Google Review
Featured in Previous Years
While these wineries aren't offering benefits to WineryHunt Club Members in 2021, they are well worth visiting when you are in the Van Duzer Corridor.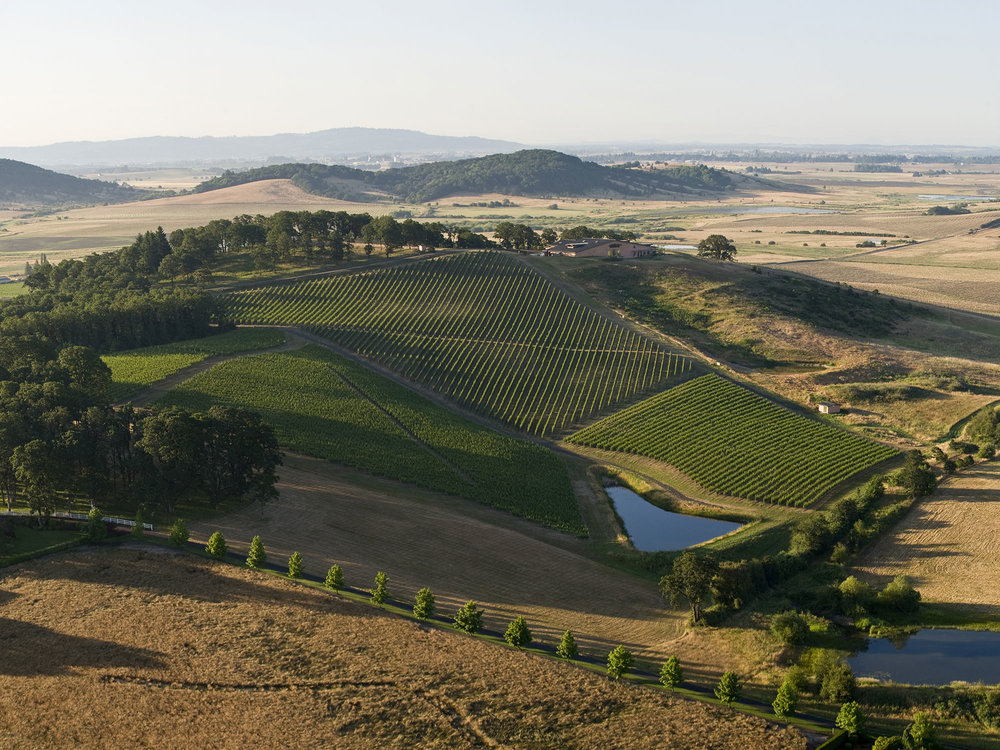 Van Duzer Vineyards
11975 Smithfield Rd, Dallas, OR 97338
Directions & Hours
Website
Proprietors Carl and Marilynn Thoma were among the first to choose the foothills at the mouth of the Van Duzer Corridor to create their family estate in 1998, intrigued by the potential of the microclimate and its ability to produce evocative Pinot Noir. The estate's 84 planted acres are in the direct path of marine winds and benefit from the cooling gusts that moderate the temperatures over the vineyard, guaranteeing a long, beneficial growing season year after year.
Winemaker Florent Merlier has mastered how to maximize flavors in the thicker-skinned grapes that persevere in the Van Duzer Corridor. Taste these well-crafted Oregon wines while reveling in the views from the hilltop tasting room!
Wines Offered: Pinot Gris, Chardonnay, Rosé, Riesling, Pinot Noir, Syrah, Cabernet Sauvignon, Oregon Port, Dessert Wine
"Our favorite wine tasting room. Excellent wines and extremely welcoming staff. Wine club events, winery tours and fantastic viewing of the Coast Range keep piling on the superlatives" -DT, Google Review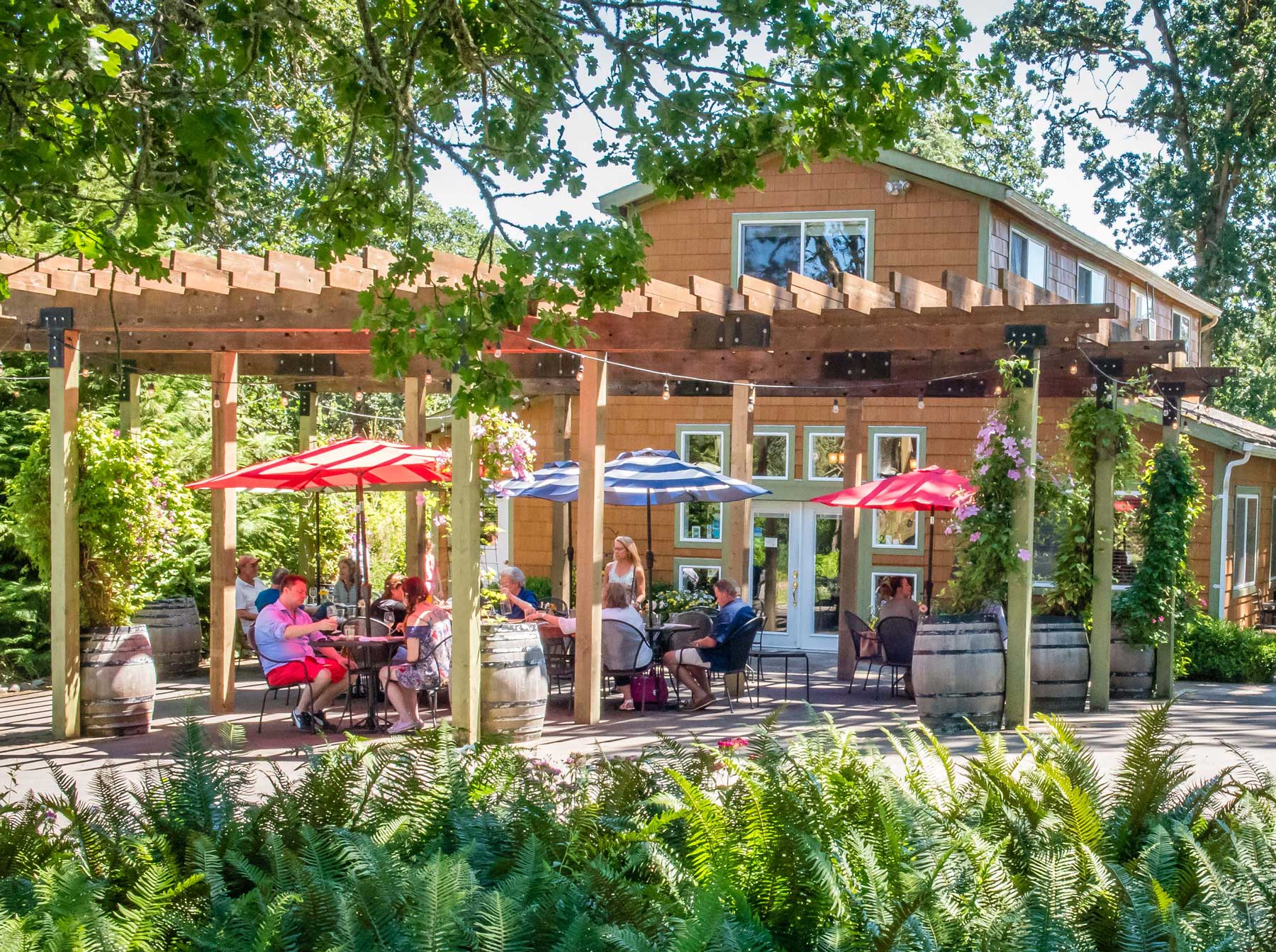 Left Coast Estate
4225 N Pacific Hwy W, Rickreall, OR 97371
Directions & Hours
Website
Left Coast farms 142 acres of vines on their nearly 500 acre Estate, which is largely sedimentary soil laid down by the Missoula floods and some volcanic soil as well. Sustainability is at the core of everything that Left Coast Estate does... They received the largest USDA grant in Oregon in 2008 to go solar, and the vast majority of the estate's electrical needs are supplied by the ground and roof mounted solar arrays. Our winery and vineyards are LIVE certified and Salmon Safe as well.
The gorgeous property has a walking trail through the vineyards and oak forest, as well as many outdoor spaces to enjoy your flight of wines. For those with an appetite, daily food specials are served Monday-Thursday and Wood-fired pizzas are served Friday-Sunday.
Wines Offered: Pinot Blanc, Pinot Gris, Chardonnay, Viognier, Pinot Noir, Pinot Meunier, Syrah
"Love this place! Great wines, really friendly staff and gorgeous area with a little veggie/herb garden, lots of tables under old oaks, ducks, chickens and pathways to hike. The food smelled wonderful. Left Coast Cellars is at the top of my favorite wineries." -KM, Google Review
NOTE: Closed Sunday, September 15 for a Club Event. Open Until 8pm on Fridays, although waived tastings for members ends at 5pm.