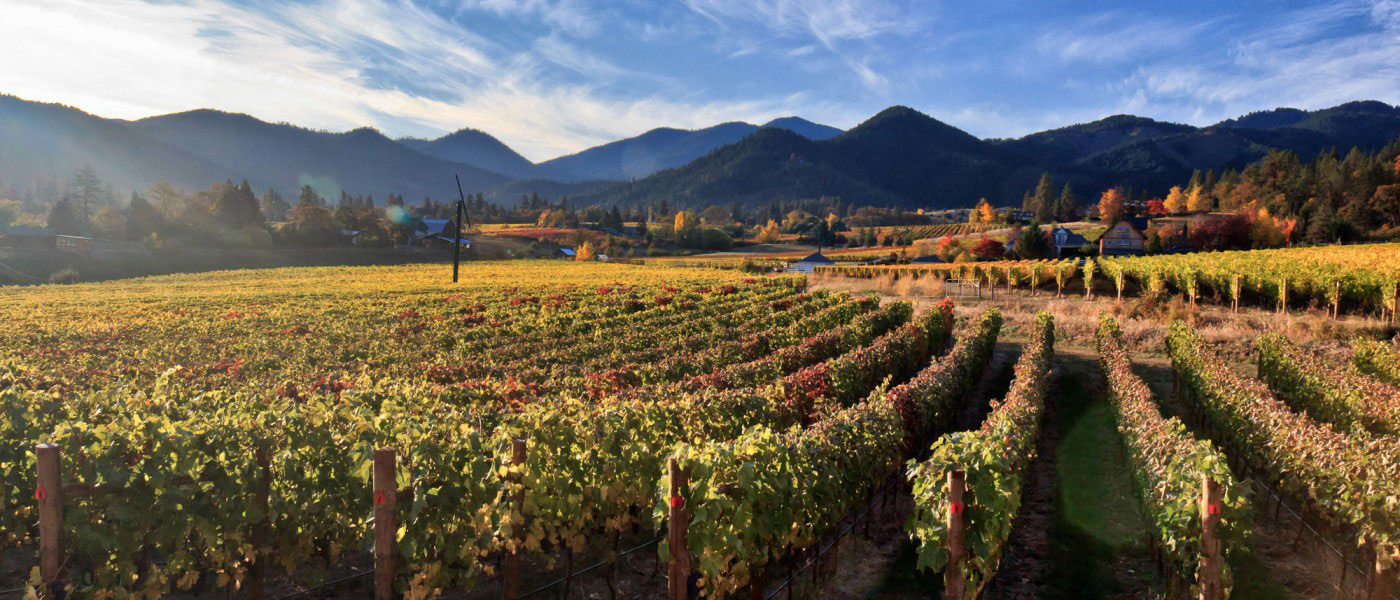 A Wine Tasting Itinerary in Southern Oregon's Applegate Valley
Note
This article is for trip planning purposes. Only the wineries that are listed as 2021 Club Featured Winery are offering WineryHunt Membership Benefits this year.
Southern Oregon's Applegate Valley is home to over 20 wineries producing a wide variety of high-quality Oregon wines.
With a hotter climate than the Willamette Valley, the wineries in the Applegate Valley grow varietals like Syrah, Grenache, and Marsanne Roussanne. You'll be amazed at the wide variety of wines crafted here and how fun it is to explore the tasting rooms hidden throughout the winding valley roads.
The Applegate Valley is located in southwest Oregon, 4 hours down I5 from Portland. The nearest town is Jacksonville, a charming 1800s mining town situated 15 minutes west of these wineries. We recommend staying in an AirBNB in Jacksonville during your tasting trip to this region.
Over 20 Wineries
There are over twenty wineries in Southern Oregon's Applegate Valley. We've highlighted three of the best in this wine tasting itinerary.
Featured in Previous Years
While these wineries aren't offering benefits to WineryHunt Club Members in 2021, they are well worth visiting when you are in the Applegate Valley.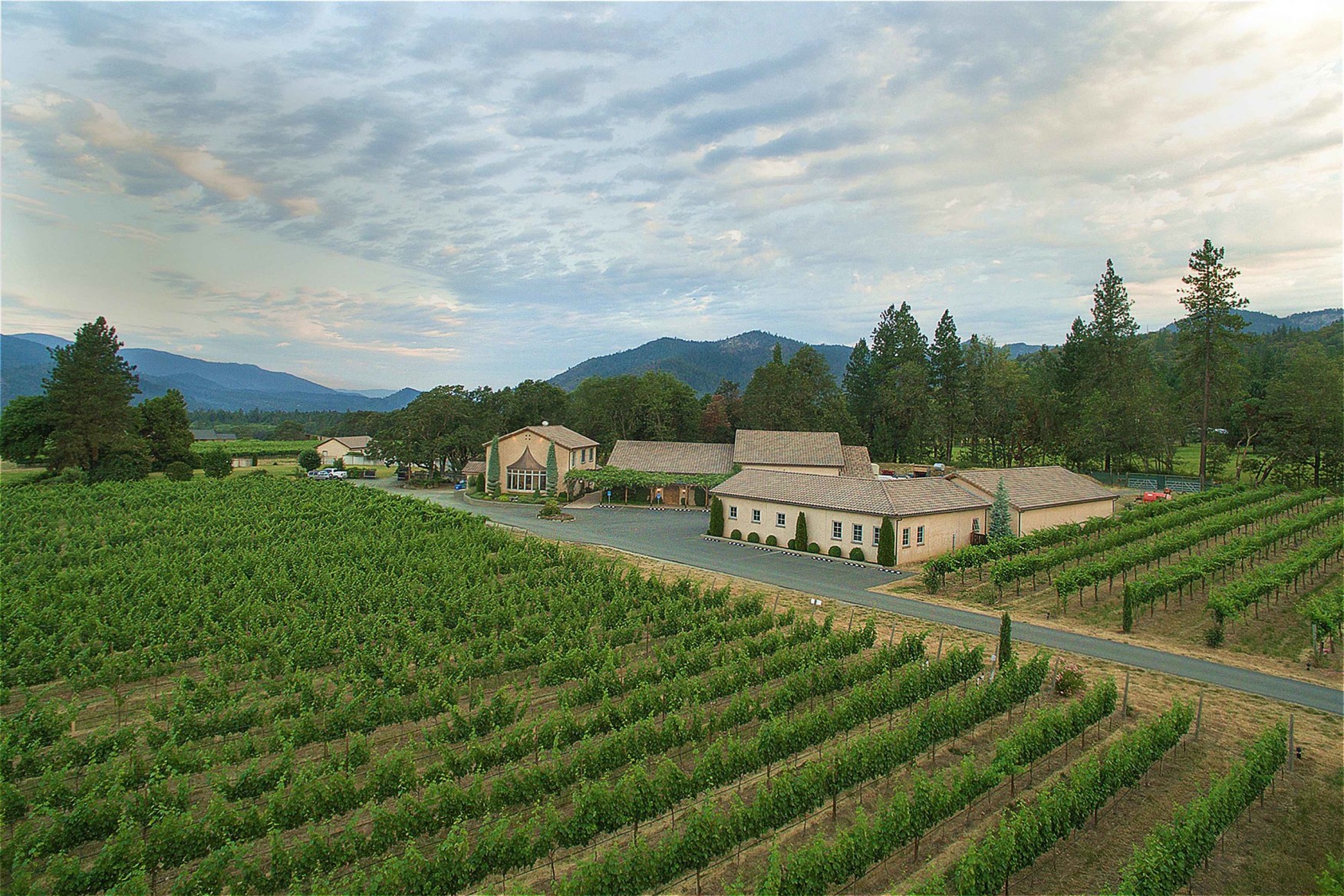 Troon Vineyard
1475 Kubli Rd, Grants Pass, OR 97527
Directions & Hours
Website
Troon Vineyard crafts wines that thrive in the hot Southern Oregon climate. They offer a huge selection of wines to sample from their beautiful winery and tasting room, with bigger red wines including Cabernet Sauvignon and Syrah and some refined white wines like Vermentino and Roussanne.All of the wines are matured in three or more years old French Oak Burgundy barrels, with no acids, sugar, enzymes or any additives added to any of the wines. Their vineyards are all LIVE and Salmon Safe certified and are close to becoming biodynamic and organic certified. The grounds around the winery are gorgeous, with plenty of room tospread out and lawn games to play (Bocce ball anyone?).
Wines Offered: Vermentino, White Blends, Roussanne, Riesling, Orange Wine, Grenache, Tempranillo, Syrah, Cabernet Sauvignon, Malbec, Red Blends, Merlot, Sangiovese, Dessert Wine
"Delicious wine, lovely scenery, and the most wonderful employees ever. What was supposed to be a brief visit to several wineries in the Applegate turned into a many hours long visit to Troon because: delicious wine, beautiful space, and really awesome people :)" PP, Google Review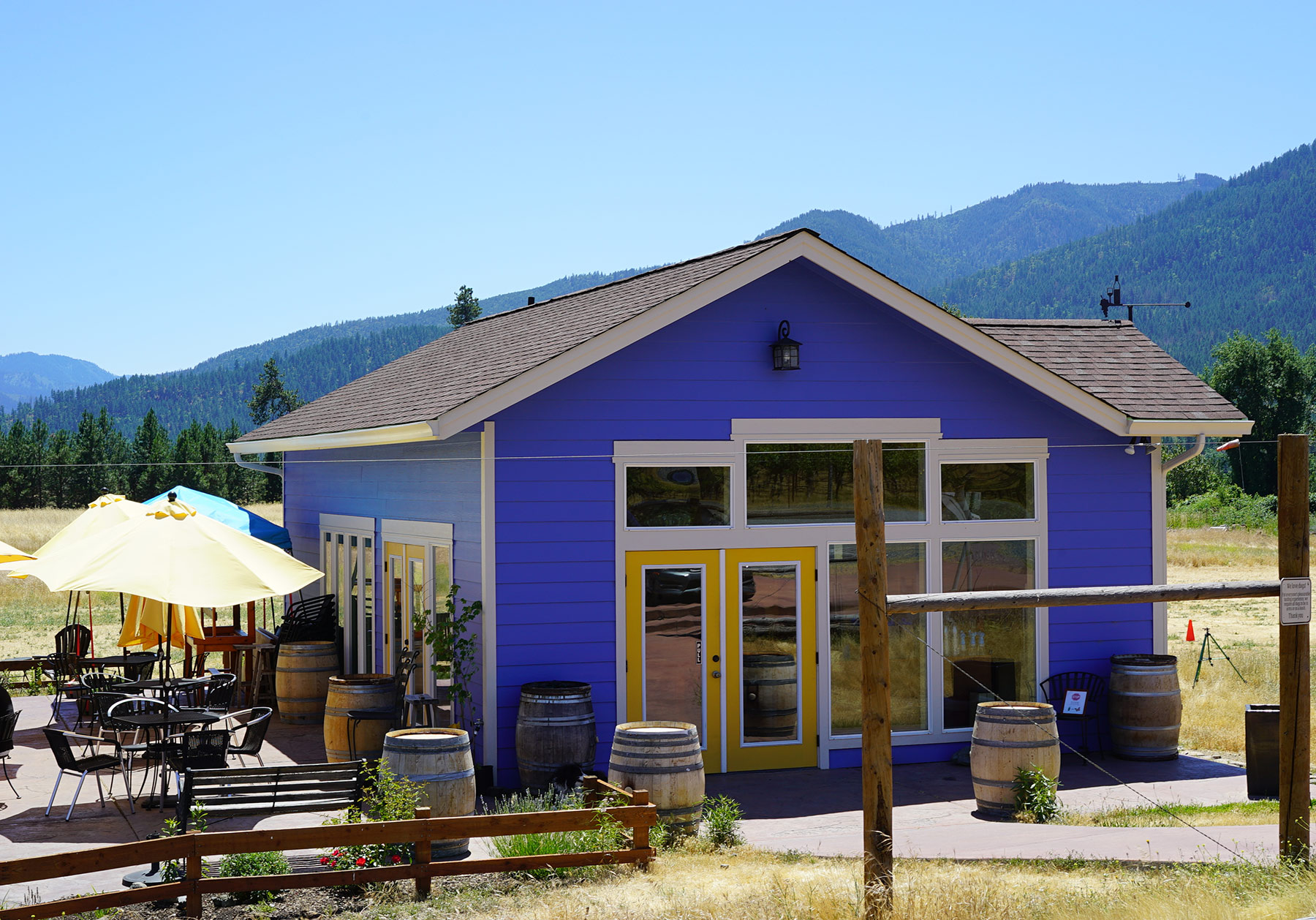 Longsword Vineyard
8555 OR-238, Jacksonville, OR 97530
Directions & Hours
Website
Situated in the valley between Troon and Cowhorn,LongSword is a family-owned, farmed, and operated vineyard & winery. This tasting room epitomizes Southern Oregon – you may be greeted by sheep, chickens or the vineyard dog. The tasting room is set on 10 acres of Chardonnay and Pinot noir vines, with expansive views of the valley. The wines are unique and include a sparkling Chardonnay, Gewürztraminer, Viognier, Merlot, and Syrah, amongst others.
In back of the tasting room is a field where local paragliders and hang gliders land after jumping from a nearby hilltop. It makes for a very interesting experience to sip your wine on the outdoor patio as a colorful spectrum of wings land nearby! You'll also love the views of the vineyard and surrounding mountains.
Wines Offered: Sparkling wine, Chardonnay, Viognier, Gewürztraminer, Syrah, Merlot, Red Blends
"I love this place. The wines are all fantastic! The vibe is relaxed, not snooty, yet still an absolutely lovely environment. Lots of open space for kiddos to run. Farm animals onsite. Snacks, lemonade and ginger beer available for kids, non-drinkers and hungry bellies. Amazing!" -MC, Google Review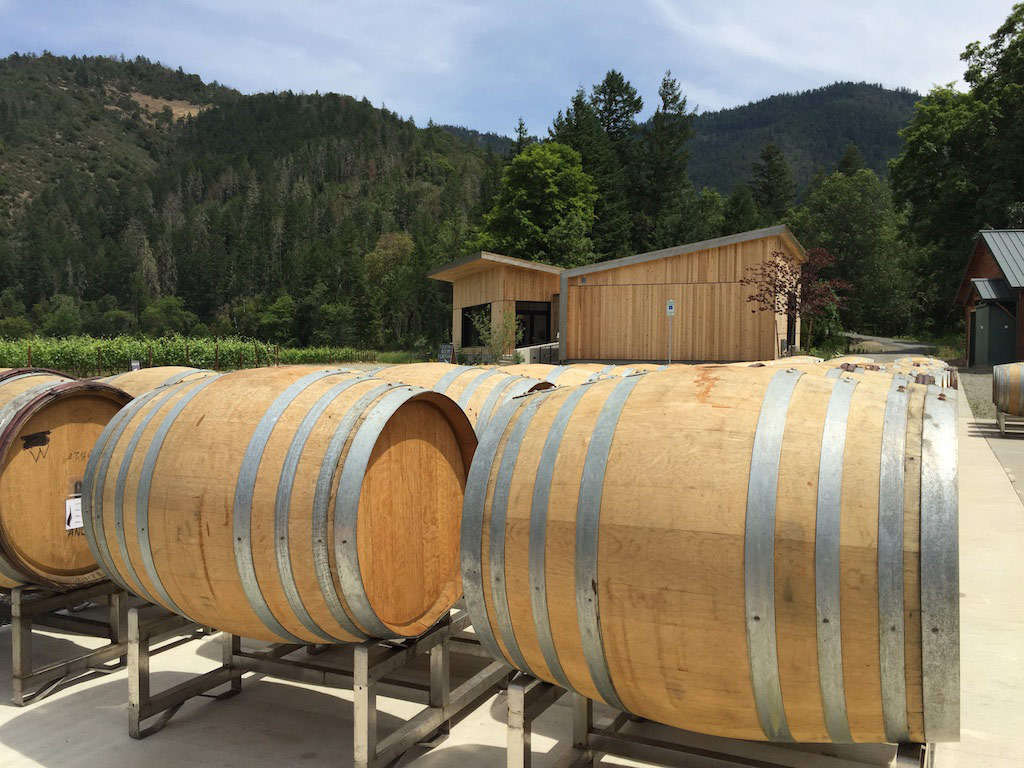 Cowhorn Vineyard & Garden
1665 Eastside Rd, Jacksonville, OR 97530
Directions & Hours
Website
Finish your wine tour at Cowhorn Vineyard & Garden, a boutique vineyard and winery known for Biodynamic production of notable Rhone style wines. The first thing you'll notice about Cowhorn as you drive up is the beautiful modern architecture of the tasting room. This tasting room is the first in the U.S. to meet the zero-energy, toxin-free Living Building Challenge. Not only is it environmentally friendly, the tasting room is simply a gorgeous building to relax in while enjoying the tasting.
The wines are all biodynamically grown and have achieved a cult following among chefs and wine geeks throughout the United States. This is some of the best wine in the valley, with Viognier, Marsanne Rousanne, Syrah, Grenache, and several blended wines on the tasting menu.
Wines Offered: Viognier, White Blend, Viognier, Marsanne Rousanne, Grenache, Syrah, Rhone-Style Red Blends
"Cowhorn is a biodynamic cult favorite among chefs from San Francisco to New York" - The New York Times
Resources for your Tasting Adventure to the Applegate Valley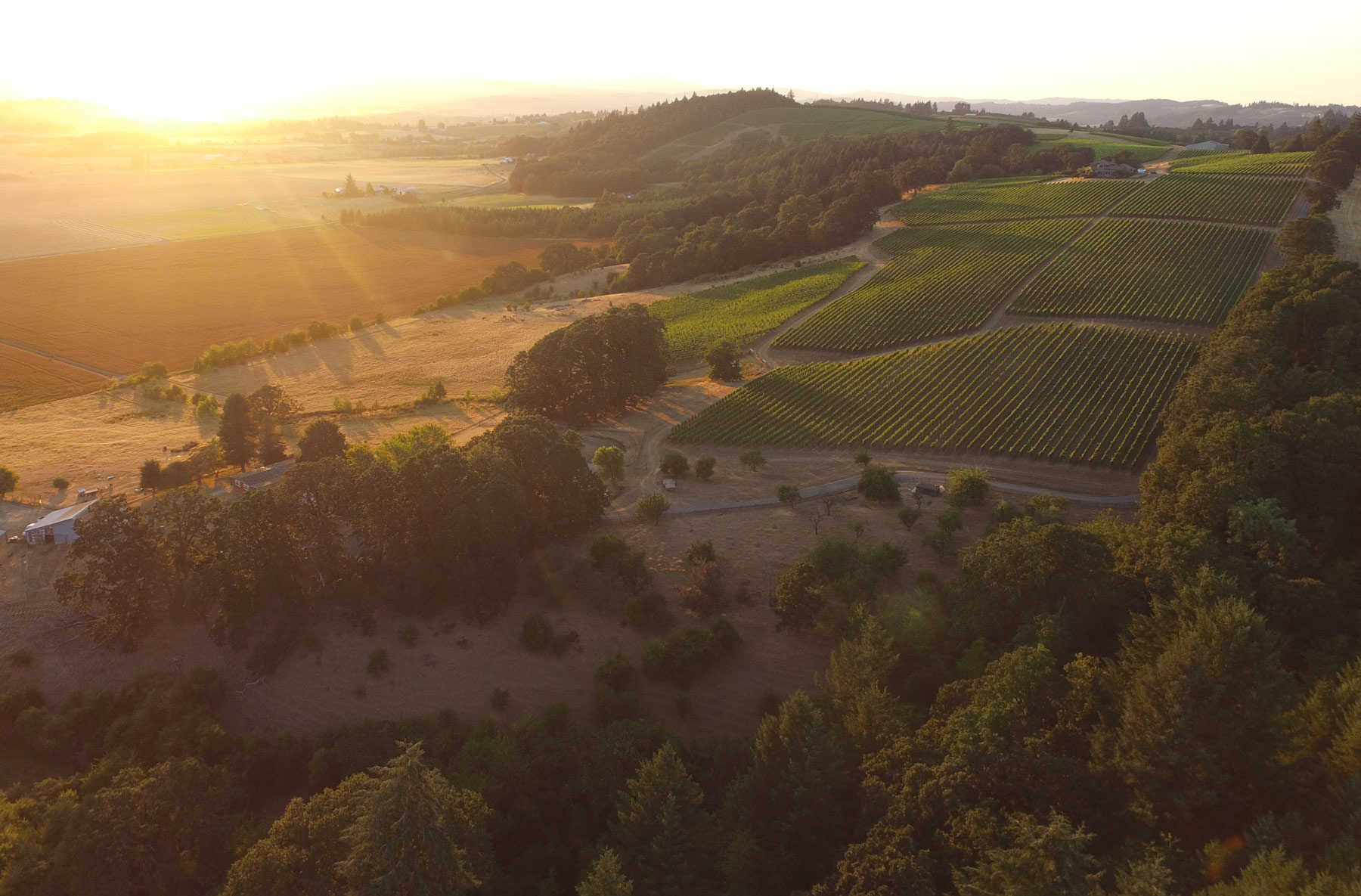 Join the WineryHunt Oregon Club
Club members enjoy waived wine tastings in a different Oregon wine region each month
View Club Details